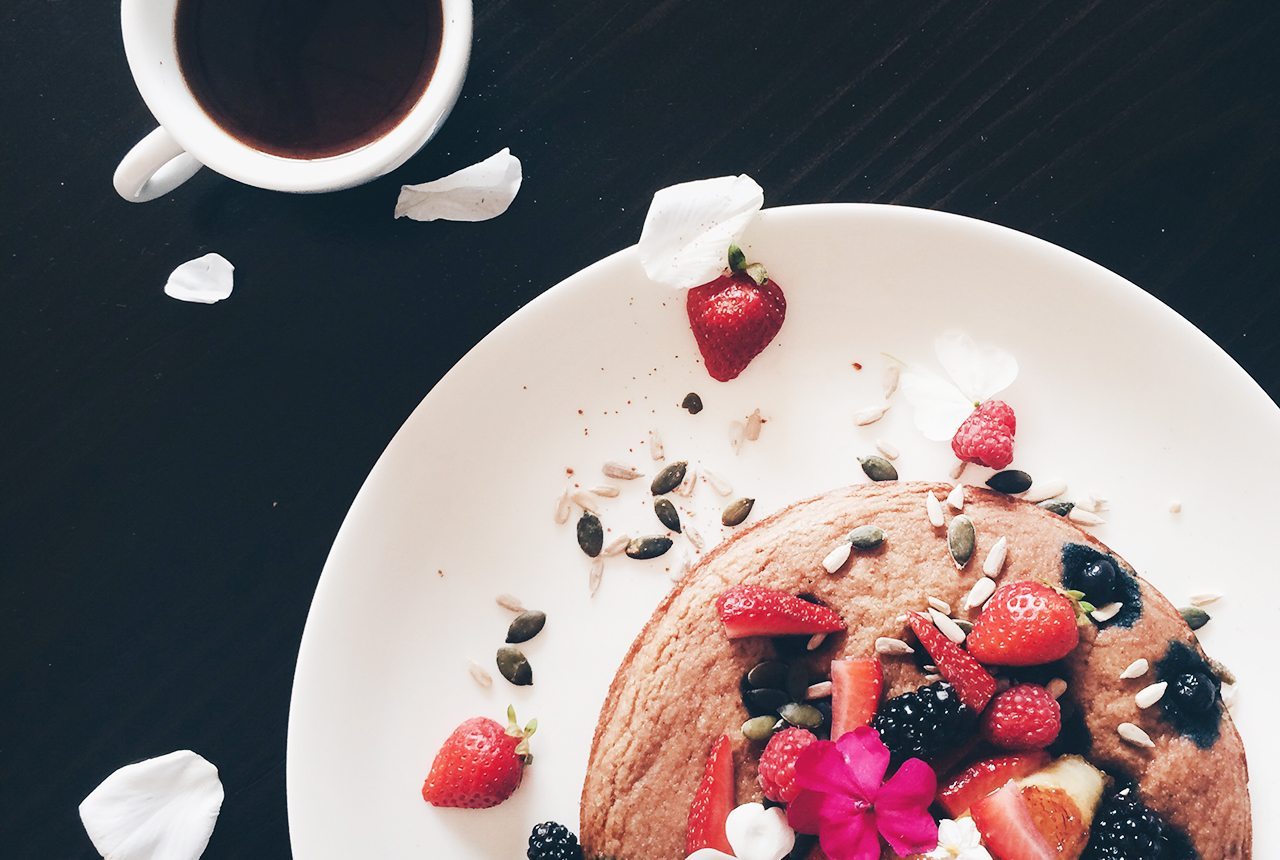 There is seriously good pancake game out there. Whether you are looking for the original sugary and white flour version or something more health friendly there is not excuse to be eating ugly pancakes. To be honest, I have stayed away from making one of my own for some time now as I just hadn't come up with the right one. However, after frequently visiting Top Paddock and seeing their eye-popping deep-dish pancake and living off Sharing Bali's gluten-free rice flour pancakes for a week I knew I could combine the two worlds together to produce a healthy deep dish gluten-free pan-cake. I am pretty damn excited.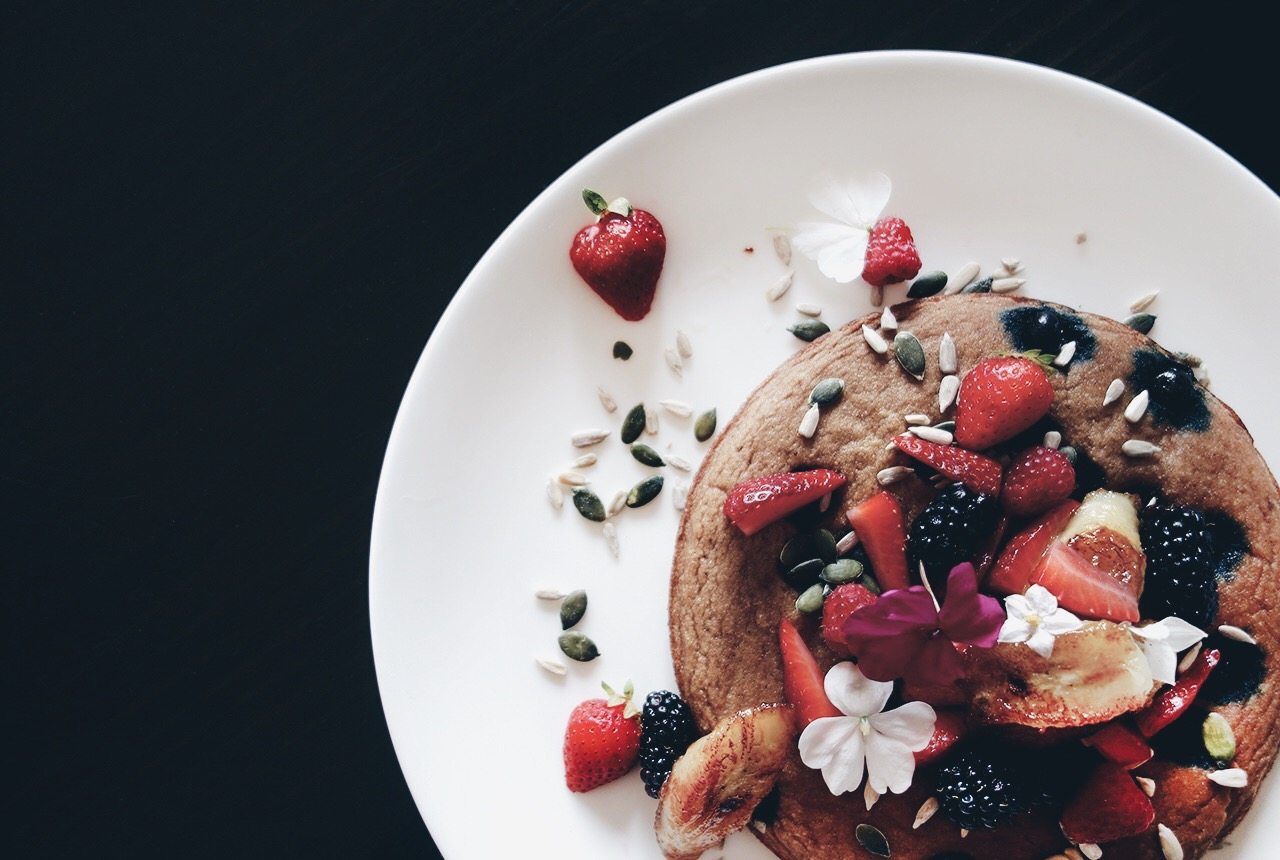 Top Paddock's makes their notorious deep dish pancake by putting their secret pancake recipe in one large pan and baking it in the oven.
Sharing Bali on the other hand is famous for their light fluffy crape style pancakes which are made from finely milled rice flour and served wrapped around steamed banana.
Both are phenomenally good. I have taken my favourite elements from both and spawned my own deep-dish pan-cake with my own secret weapon – caramelised maple banana aka the game changing pancake topping which will make your morning every time.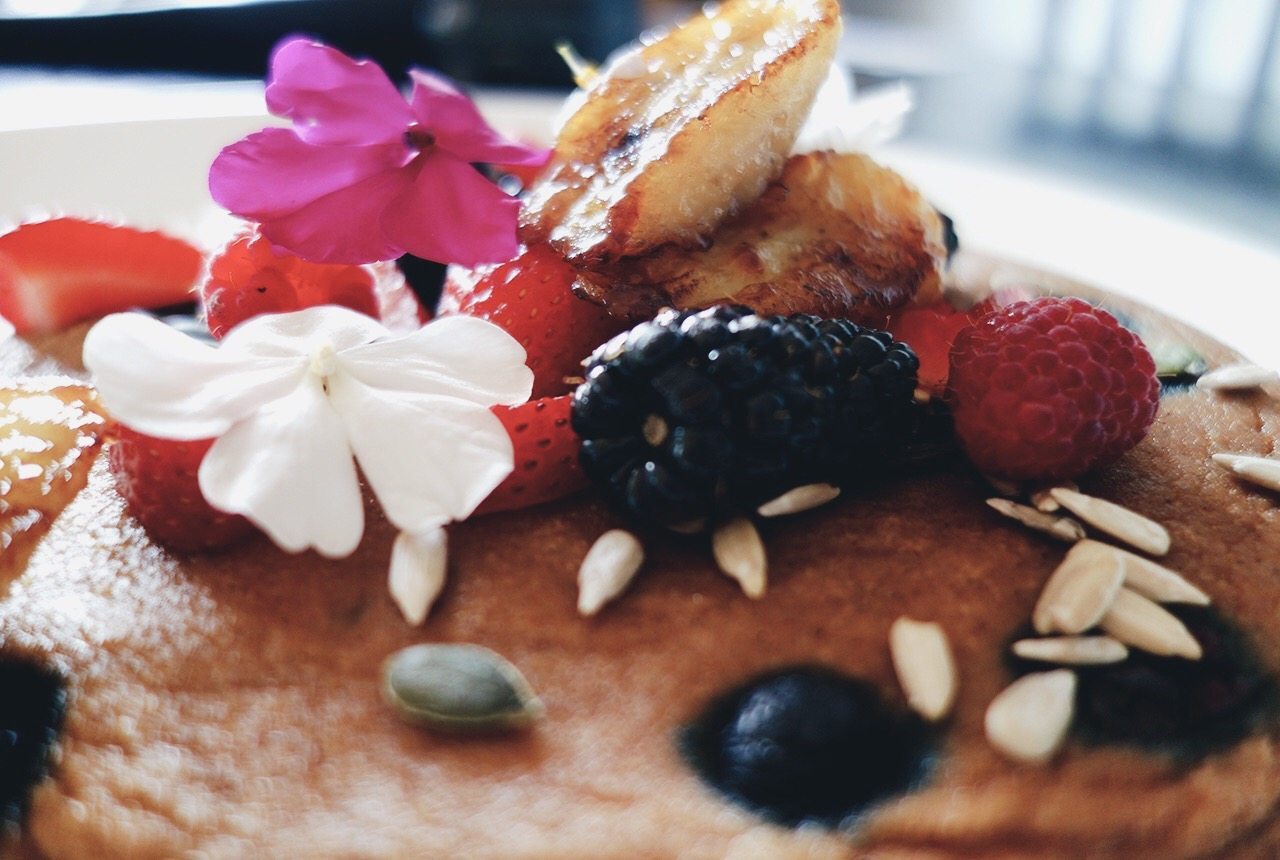 In Karen's recipe for gluten-free pancakes she uses rice flour. I decided to try it with Ceres Organic's Coconut Flour instead. Coming from dried and ground up coconut meat, coconut flour is a tasty gluten-free alternative which is a great source of protein and rich in dietary fibre. It also helps provide a nice light and fluffy texture to the pancake. Ceres Coconut Flour is ideal to use as there is no chemical bleaching, alcohol treatment, additives or agents added.
This is also my first experiment with agave syrup. I know, I know. I'm late on the agave train. Agave comes from the blue agave plant most commonly grown in Mexico. Its sweet nectar is somewhat similar to both honey and maple syrup and has a low glycemic index. Note it is high in fructose so for those who are fructose sensitive, swap with maple syrup instead.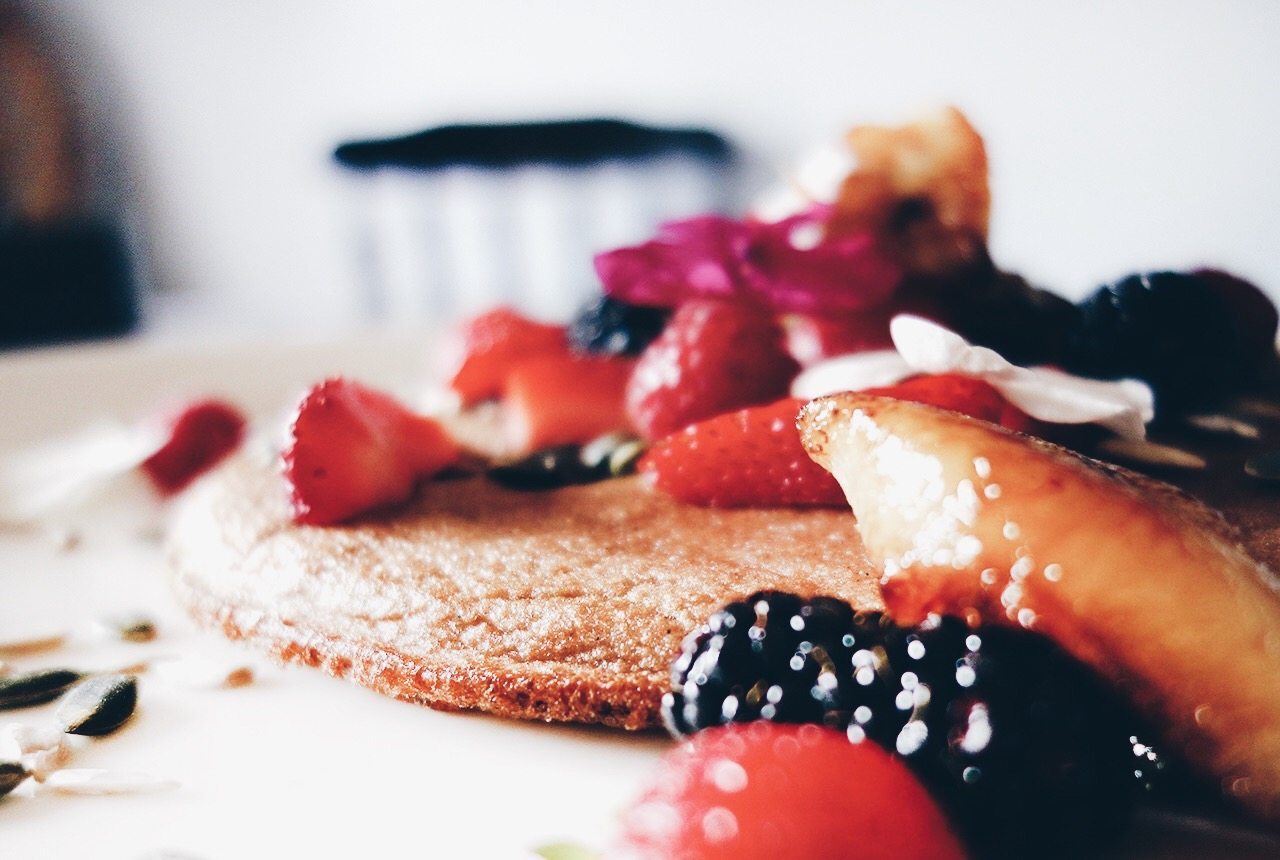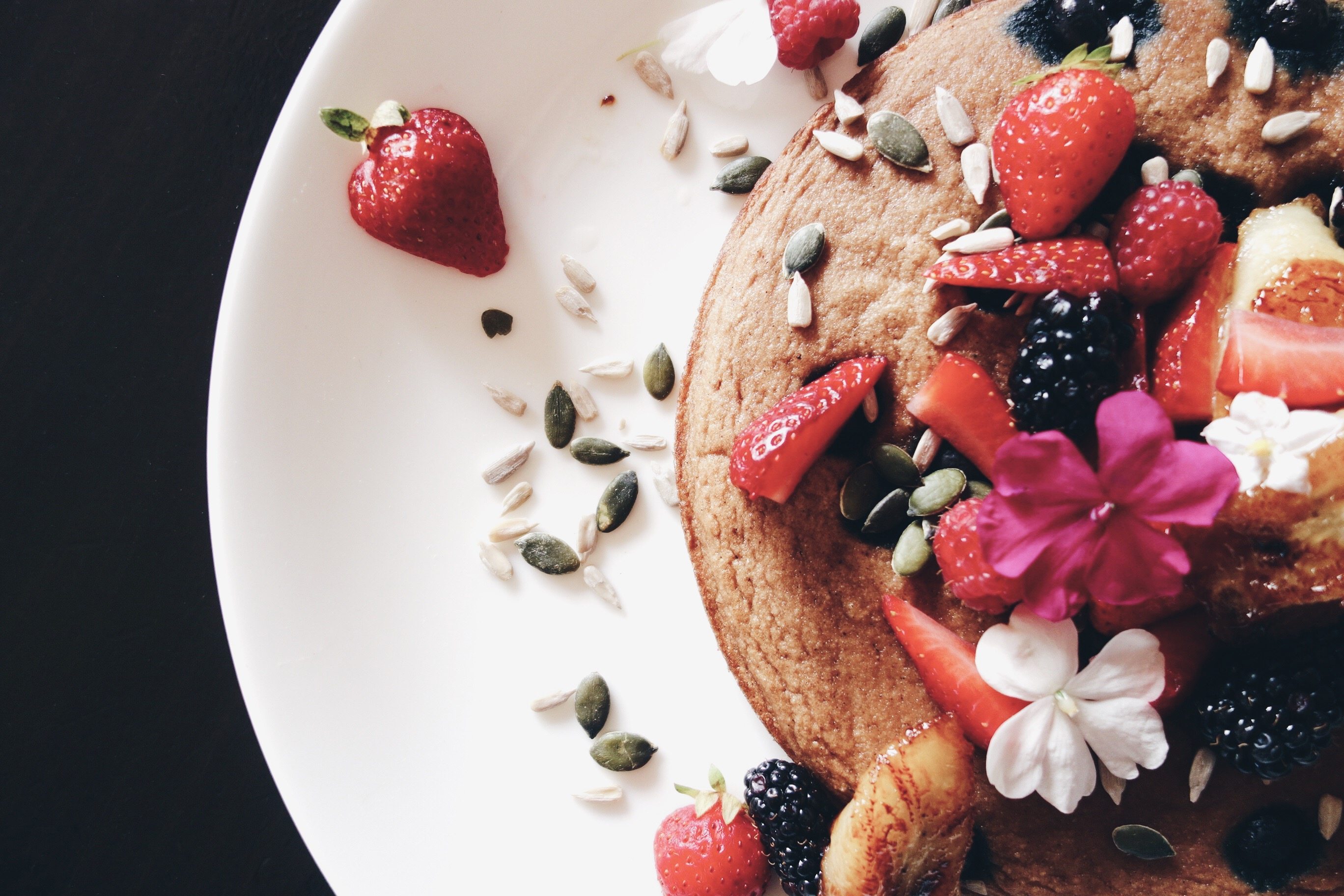 game changing deep-dish pancake & caramelised banana
Raise your pancake game with this ultra delicious yet healthy gluten-free and guilt free deepdish pancake.
Eat for:
brunch, breakfast
Cuisine:
gluten free, dairy free, refined sugar-free
INGREDIENTS:
2 organic free-range eggs
1 teaspoon of fresh lemon juice
½ cup water (or choice of nut milk if you prefer)
1 teaspoon vanilla paste (optional)
1 tablespoon agave, raw honey or maple syrup (optional)
¼ cup Ceres Organic coconut flour or rice flour
½ teaspoon gluten-free baking soda
1 teaspoon cinnamon
½ teaspoon Himalayan salt (optional)
Handful of frozen blueberries (optional)
Organic raw virgin cold pressed coconut oil for cooking
1 banana – cut into 1.5cm diagonal slices
Berries – I used raspberries, strawberries and blackberries
Seeds – e.g pepitas and sunflower seeds
Edible flowers
INSTRUCTIONS:
Preheat oven to 170 °C on fan forced bake.
Line and grease a 20cm or smaller cake tin with coconut oil – the smaller the cake tin, the deeper the pancake.
Combine egg, lemon juice, cinnamon, vanilla, agave and salt in a dish. Whisk for 1-2 minutes until foamy.
Gradually add water and continue whisking until foamy.
In a separate bowl, sieve flour, baking soda, cinnamon and himalayan salt together.
Gently fold in flour mix into wet, trying to keep as much air in the mixture as possible.
Pour into cake tin.
Bake 25-30 minutes or until a toothpick inserted in the centre comes out clean – time will depend on both your oven and the cake tin you are using.
While the pancake is cooking, make the caramelised banana.
On a high heat, heat a heavy bottomed pan.
Once pan is hot, melt the coconut oil.
Place banana into the pan and pour over the maple syrup.
Swish banana through the coconut oil and maple syrup gently, then leave without touching for 2-3 minutes until caramelised on the bottom.
Gently flip the banana over and repeat – you want to get the as much maple syrup onto the banana as possible.
Gently remove from pan and set aside. Take care as they can be a little squishy.
To assemble, remove pancake from cake tin – be gentle as it is delicate!
Sprinkle berries and seeds on top concentrating berries in a pile.
Layer caramelised banana on top of berry pile.
Place on flowers.
Sprinkle with extra cinnamon and agave syrup if needed.
See Also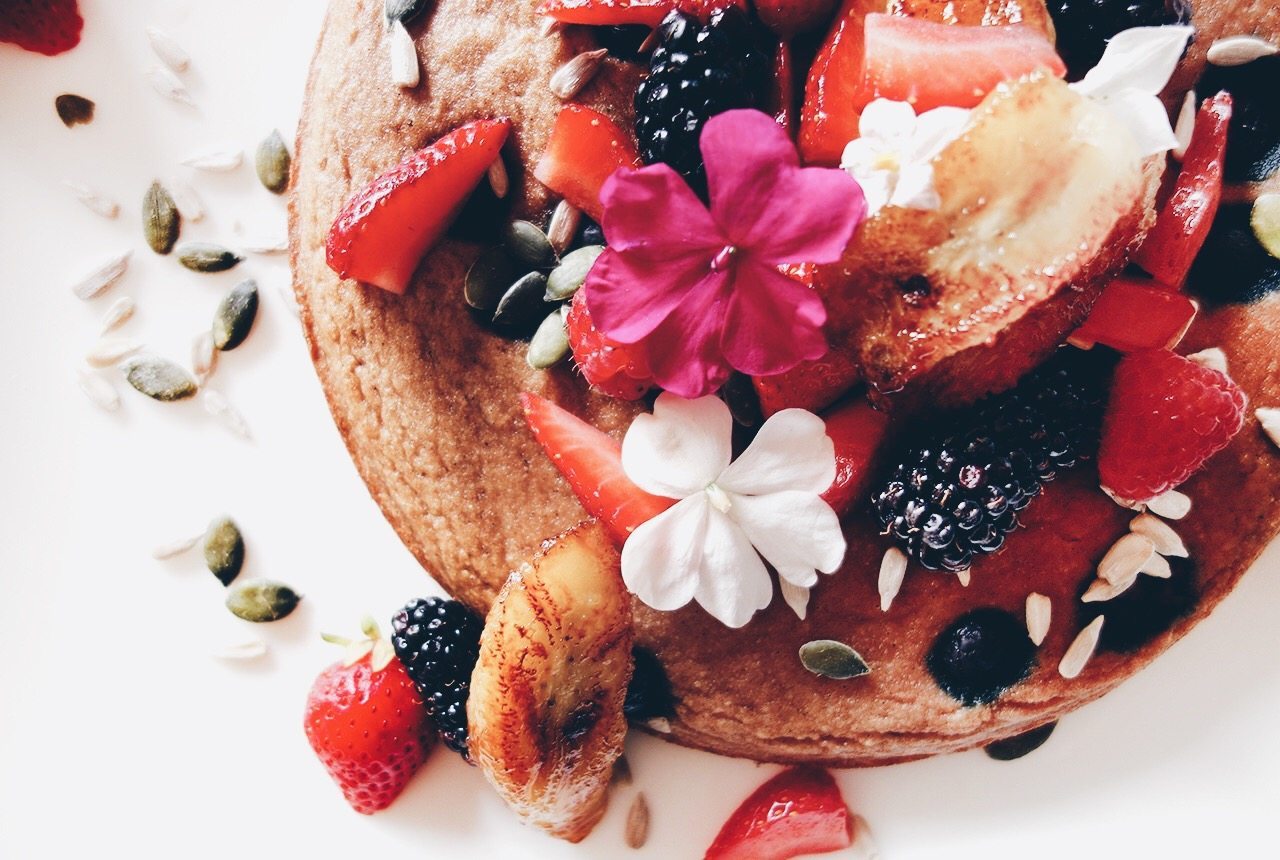 [line]

CLICK TO VIEW THE COMPLETE UNIMPOSSILES SHARING BALI SERIES
[line]