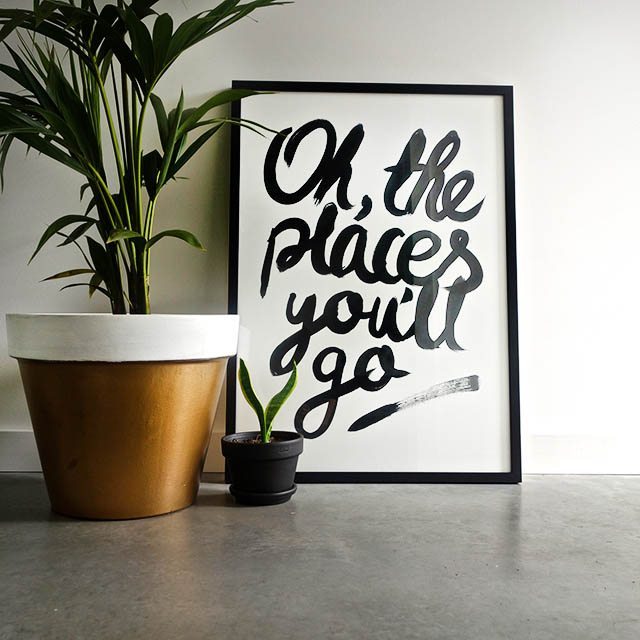 I have a lot of terracotta pots in my back yard which look a bit… well… boring. They're not terribly offensive in their natural off the shelf state, but they're not amazing either. Terracotta pots are ideal from many vantage points – they have classic clean lines that don't date, they're sturdy, hard wearing and best of all – they're cheap!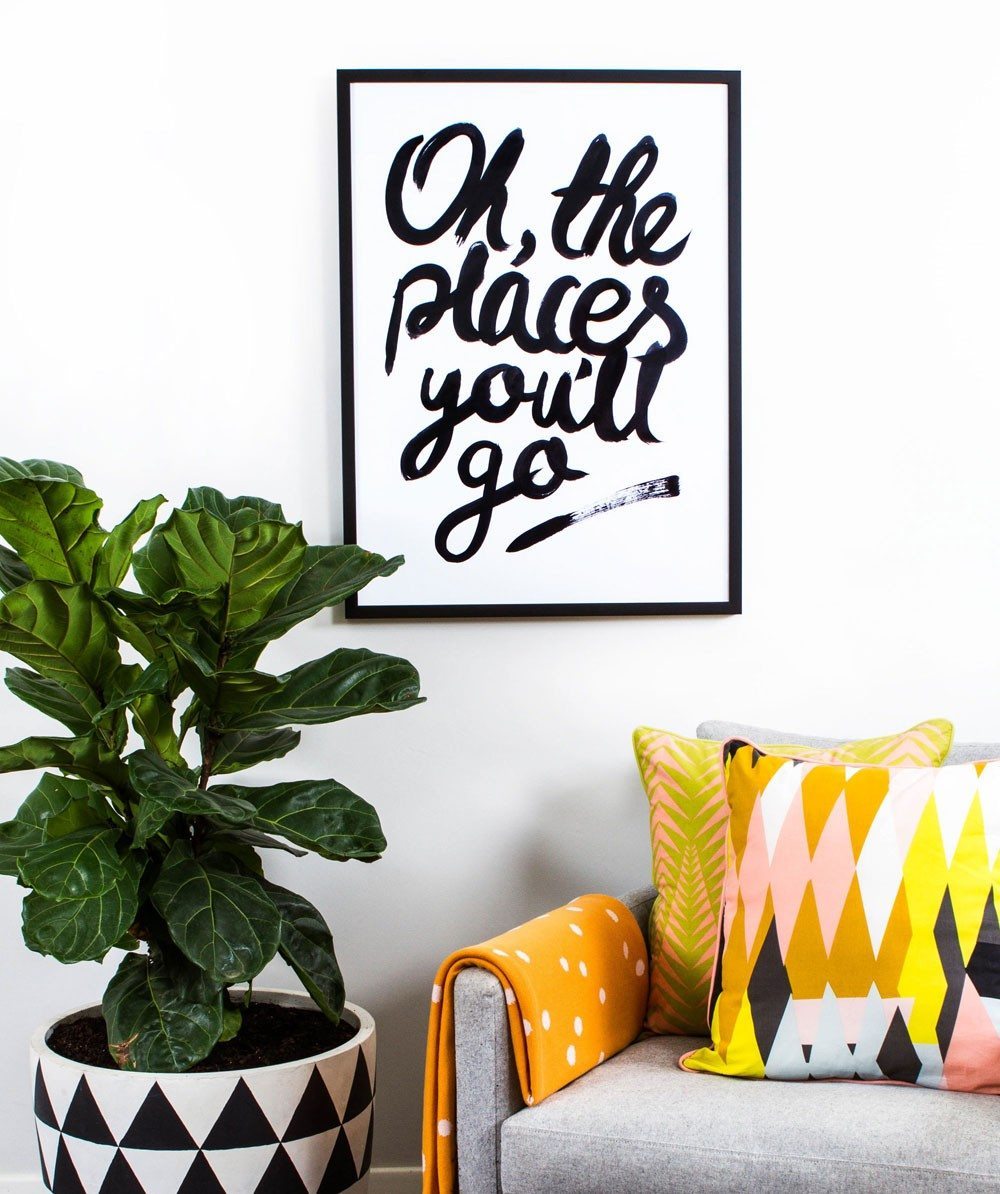 I have been wanting to make my own painted posts ever since I saw the above Pop & Scott pot styled with the 'Oh The Places You'll Go' print from Hunting for George. What's not to like? Grey chair, fiddle leaf fig tree, awesome pot, awesome print – tick, tick, tick & tick. Following on from Saturday's interview on Pop & Scott, where Poppy told us her pots were actually a happy accident, I was inspired to do a clean up of my own garden.
Apart from the pots being super cool, the beautiful print also means something special to me as we read excerpts from that Dr Seuss book at my friends wedding. I knew it was the perfect belated wedding gift for her and was very excited when I saw it.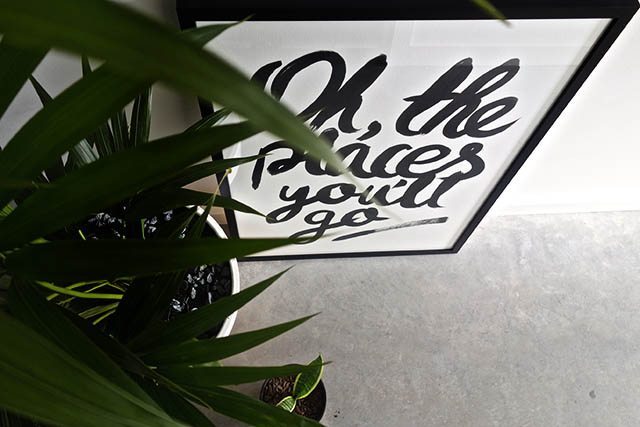 The fiddle leaf fig tree is another story, currently very on trend and taking over the blogasphere, however, they can set you back from $129 for a medium sized one! Yes they look amazing, but don't let it's celebrity status prevent you from considering the other amazing trees out there. Elephant leaf, Japanese Sago or Golden Cane Palm as featured in my pictures are al leafy plants that all look amazing and have just as much clout as old figgy over there, just sayin'.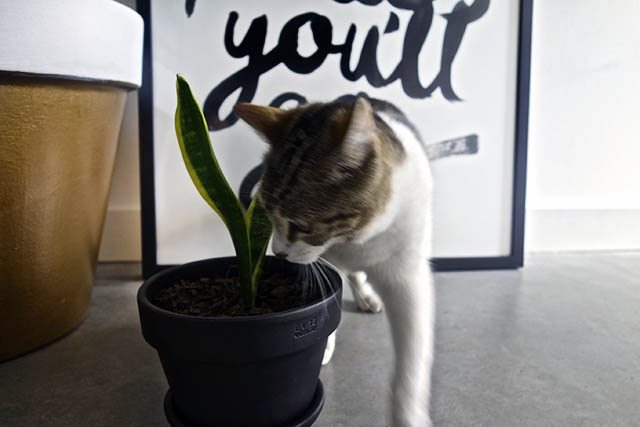 I am pretty in love with the results. The largest pot was finished in gold and white on the exterior and black on the interior which looks very sharp. I also did a few in plain matt black which I think looks freaking sweet, although, is not really in line with their geometric prints. I took the path of least resistance here as I am new to painting pots, but I would like to also do some graphic prints as well – feel free to give it a go and report back.
See Also
Tins of paint can be a bit pricey at around $30 each, however one tin goes a long way and if you are doing quite a few, it can turn out quite economical.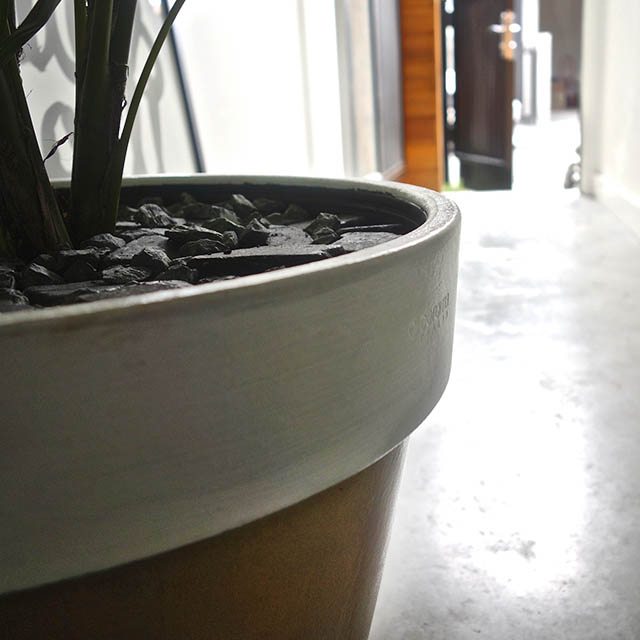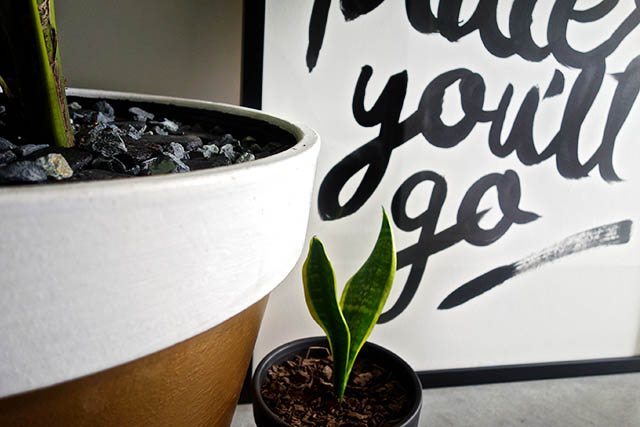 Large Painted Gold and White Pot
You will need:
1 large terracotta pot and it's base – I got a 46cm standard pot one from Masters
1 can terracotta sealer spray
1 can gold spray paint
1 tin water based paint in matt white
1 tin water based paint in matt black
Paint brushes
Drop sheet
Paint tray
Masking Tape
Plastic bags
Dirt
Plant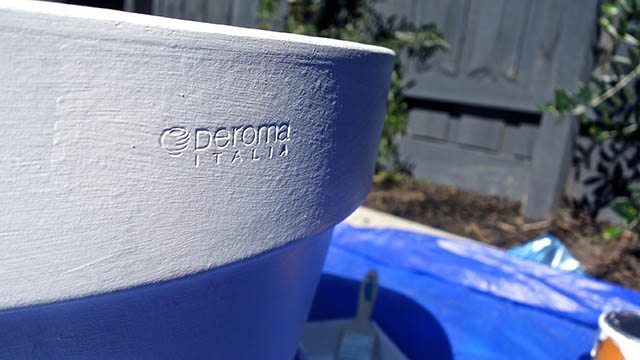 [images src="http://theunimpossibles.com/wp-content/uploads/2014/09/diy-gold-pot-5.jpg" title="DIYgold pot" caption="" url=""] [images src="http://theunimpossibles.com/wp-content/uploads/2014/09/diy-gold-pot-3.jpg" title="DIYgold pot" caption="" url=""] [images src="http://theunimpossibles.com/wp-content/uploads/2014/09/diy-gold-pot-2.jpg" title="DIYgold pot" caption="" url=""] [images src="http://theunimpossibles.com/wp-content/uploads/2014/09/diy-gold-pot.jpg" title="DIYgold pot" caption="" url=""] Directions:
Spray two coats of the terracotta sealer all over the inside and outside of the pot, leaving each layer to completely dry before moving onto the next – I'm going to tell you to dry each layer before moving to the next as it is really important – although it takes ages to dry and can be hard on the soul waiting so long, it is going to make the end result look much better.
Next apply the white paint to the entire pot. I did 3 layers to get it really bright, once again drying each layer completely in-between coats. I painting some layers vertical and some horizontal which gave it a nice finish and meant it didn't look streaky.
Once the white is completely dry, mask the top inner part of the rim leaving about 5mm-1cm of rim. Paint the inside of the pot black. I did 3 layers leaving each layer to completely dry before applying the next.
With the masking tape, create a straight line around the entire top tier of the pot as carefully as you can.
Cut the plastic bags open along one side and along the bottom to get rectangular strips of plastic. Tape them over the line you just masked and fold over the inside of the pot – you are basically masking out the entire top tier with plastic. Try to keep the lines as straight as possible and make sure to cover any holes.
Using the gold spray paint, spray the unmasked bottom of the pot. Shake can properly before use and remember that many lighter layers are better than one thick layer that drips and runs everywhere. As with most things, you'll get there faster if you take it slow! I did about 3 layers, letting each completely dry before moving to the next.
Unmask everything and hopefully you'll have perfect straight lines. If not… well thats awkward – maybe say it was hand painted?
Finish by spraying another few coats of terracotta sealant, leaving to dry in between each coat.
Plant all yo favourite plants and things in there and put somewhere awesome and pretty for everyone to see!
If you have cats, make sure to check out my post on how to kitten proof your plants.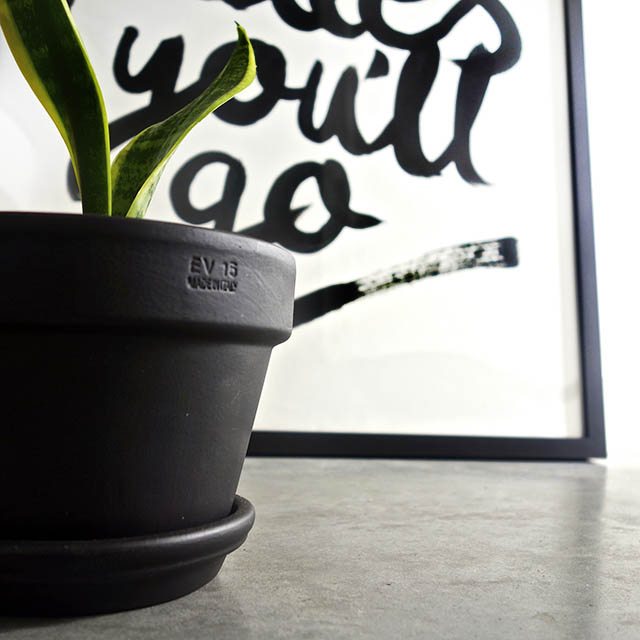 For the plain black pots, basically follow the same process as above but instead of painting it white at step 2, just go in with plain black. So start with the sealer, do a few coats of black, finish with the sealer. To easy!