super awesome gluten free prawn dill chilli and ginger oko-om-nom-iyaki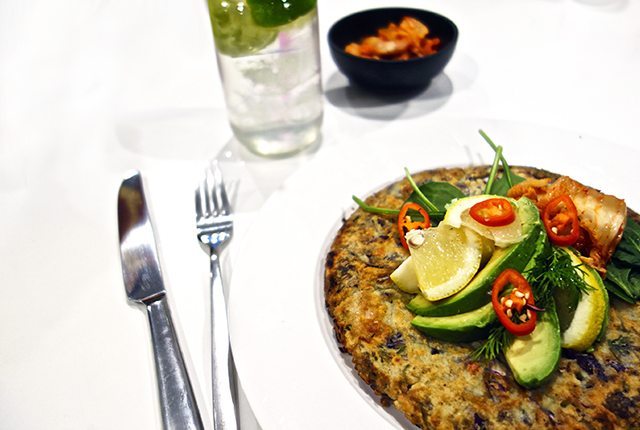 1 cup rice flour
2 large eggs
¾ cup cold water
1 tablespoon ginger, finely diced
2 cloves of garlic, crushed
1 chilli, finely diced
1 bunch dill, finely chopped
Himalayan Salt & pepper to taste
1-2 cups red cabbage, finely shredded/diced
250g prawns, roughly diced
2 tablespoons oil
Optional extras: Extra chilli
Kewpie mayo
Avocado
Lemon
Kimchi
Extra dill
Baby spinach
In a large bowl whisk flour, eggs and water until you have a smooth batter.
Add in dill, chilli, ginger, garlic, salt and pepper and mix.
Add prawns and cabbage and mix well – everything should be covered.
Heat a small cast iron pan with half of the oil.
When hot, put in half of the mixture and spread until you have one even layer. Make sure all the bits are well covered with mixture.
Give it a minute or two to cook. Use your spatular to tidy the slides and to start loosening it up – it should feel like the whole thing could slide off.
Grab a plate thats roughly the size of the pan and place on top.
With one hand on the plate and one on the pan, carefully flip the pan upside down so the pancake is on the plate.*
Slide the pancakes uncooked side back onto the pan and cook another 2-3 minutes.
Use the spatular to loosen things up again.
Once cooked, use the plate (you might want to wipe it/clean it first) to remove it off the pan and transfer to a serving plate.
Repeat with other pancake.
Top with all your favourite okonomiyaki toppings.
Recipe by
The Unimpossibles
at http://theunimpossibles.com/gluten-free-okonomiyaki/