healthy gluten free southern style spicy pulled chicken tacos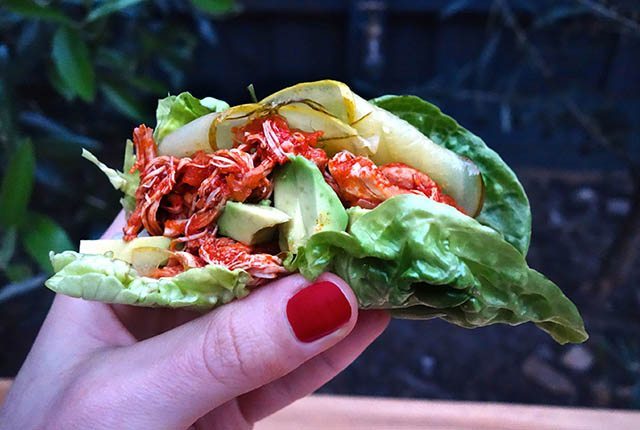 For the pulled chicken:
Extra-virgin olive oil
2 garlic cloves, crushed
1 onion, finely diced
1 chilli, sliced (any would do – I used a long red chilli but jalapeño or birds eye would also be good)
2 teaspoon hot smoked paprika
2 teaspoon cumin
1 teaspoon cayenne pepper
750gm (about 5) skinless, boneless chicken thighs
2 tablespoons tomato paste
3 tablespoons apple cider vinegar
½-1 Himalayan salt to taste
1½ cups water
2-3 bunches cos hearts, washed then cut into "taco" shells
1 avocado, pitted, peeled and thinly sliced
4-5 large pickles, finely sliced (it is worth getting out the food processor to finely slice this!)
Coriander leaves, for garnish
Kewpie mayo or other healthy alternative
On a low heat, in a large pot and sauté onions in the olive oil without colouring for 5-10 minutes or until translucent.
Add garlic and chilli and stir 1-2 minutes until fragrant.
Add in the cumin, cayenne and paprika and stir to coat.
Add the chicken, tomato paste, water, Himalayan salt and mix well.
Bring to the boil then turn down to a gentle simmer for 1 hour, or until chicken falls away easily.
Using two forks, hold the chicken down on one end with one folk, the drag the other lengthways with the grain to shred the chicken. Repeat until you have one hot bowl of delicious pulled chicken!
Serve using the lettuce as a taco cup covered in pickles, avo and coriander. Feel free to add a cheeky dollop of mayo, yoghurt or alternative if you are that way inclined.
This is usually best on the second day so make a day in advance if you have guests and just reheat!
Recipe by
The Unimpossibles
at http://theunimpossibles.com/healthy-gluten-free-southern-style-spicy-pulled-chicken-tacos/