raw orange cacao biscuit & cacao avocado mousse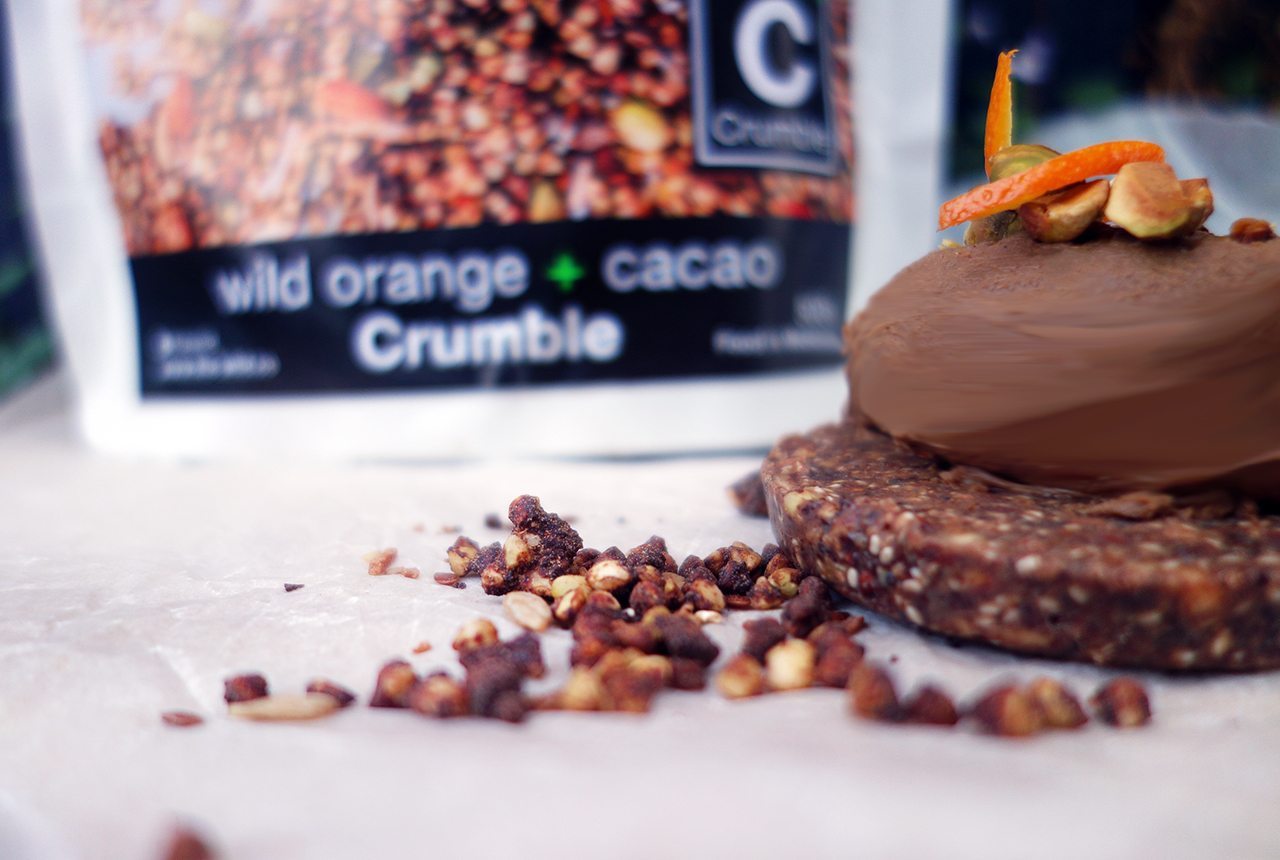 2 tablespoons cacao butter
1 tablespoon coconut oil, in liquid form
3 tablespoons hulled tahini
3 tablespoons chia seeds
1 cup Wild Orange + Cacao Crumble
⅓ cup maple syrup
3 tablespoons hulled tahini
3 avocados, cut into 2cm cubes
½ cup raw cacao powder
3 tablespoons cacao butter, in liquid form
Pinch Himalayan salt
Orange Zest
Chopped pistachios
Start with the base: Put all ingredients into a big bowl and mix thoroughly.
Press into muffin tray bottoms or similar shaped disks – about 1-1.5cm thick.
Leave to set in the freezer until ready to serve and start the mousse.
Place the avocado into a high speed blender and process until super smooth, I mean really smooth.
Add remaining ingredients into the blender and continue to process. If it's not super smooth yet – keep processing. It's worth it. Trust me. Smooth!
Place into a container and set until hard – overnight is good.
To assemble, take the bases out of the freezer and arrange on a plate.
Using two spoons, quenelle the raw avo mousse onto the top of each one. If you can't quenelle, just keep trying – it's quite fun and not that scary. This was my first attempt. You can do this!
With a peeler, peel off some orange zest and cut a slither approx 3-4mm by 3-5mm in size. Using your fingers, twist it into a curl and place on top.
Sprinkle over chopped pistachios.
Look grrrrl you did it! Now share with yo posse and enjoy!
Recipe by
The Unimpossibles
at http://theunimpossibles.com/raw-wild-orange-cacao-crumble-biscuit-avocado-mousse/