game changing deep-dish pancake & caramelised banana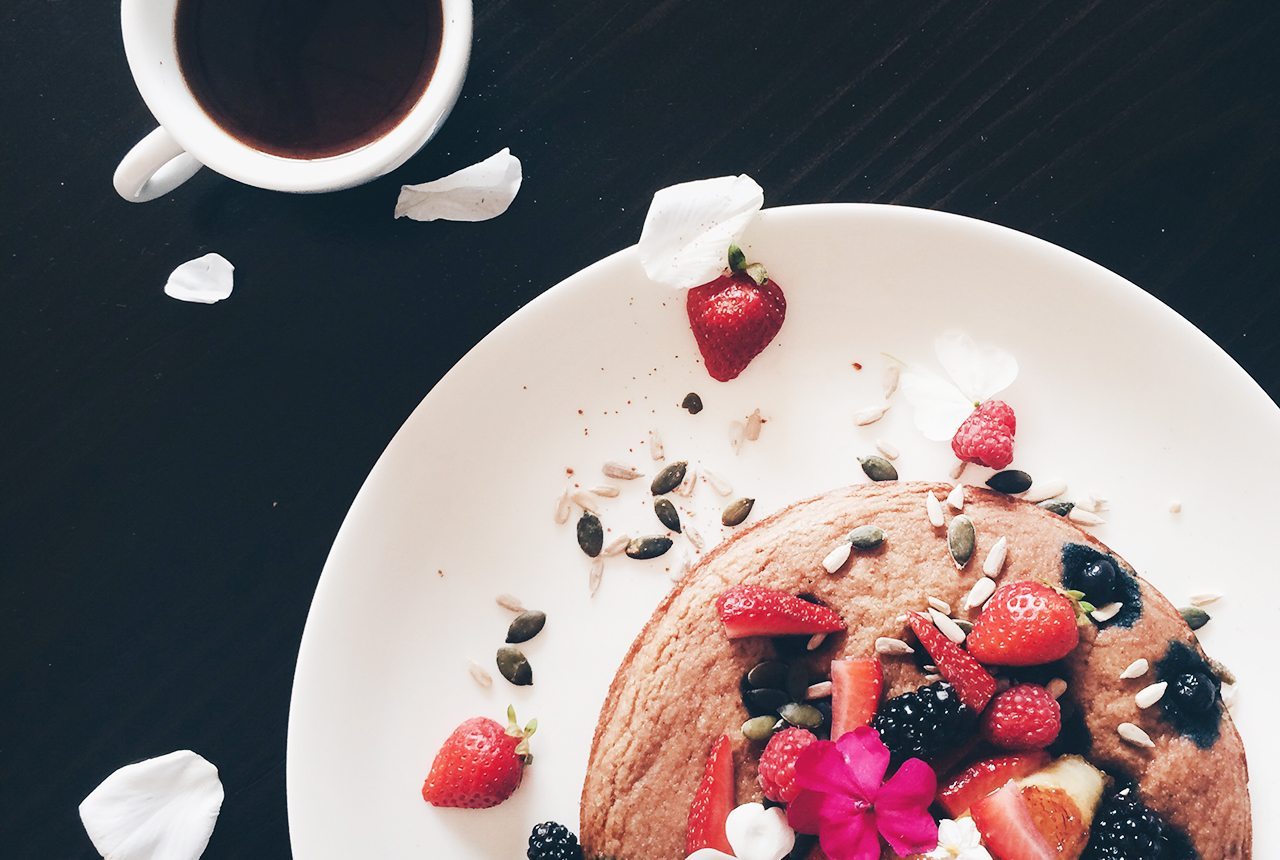 Eat for:
brunch, breakfast
Cuisine:
gluten free, dairy free, refined sugar-free
2 organic free-range eggs
1 teaspoon of fresh lemon juice
½ cup water (or choice of nut milk if you prefer)
1 teaspoon vanilla paste (optional)
1 tablespoon agave, raw honey or maple syrup (optional)
¼ cup Ceres Organic coconut flour or rice flour
½ teaspoon gluten-free baking soda
1 teaspoon cinnamon
½ teaspoon Himalayan salt (optional)
Handful of frozen blueberries (optional)
Organic raw virgin cold pressed coconut oil for cooking
1 banana – cut into 1.5cm diagonal slices
Berries – I used raspberries, strawberries and blackberries
Seeds – e.g pepitas and sunflower seeds
Edible flowers
Preheat oven to 170 °C on fan forced bake.
Line and grease a 20cm or smaller cake tin with coconut oil – the smaller the cake tin, the deeper the pancake.
Combine egg, lemon juice, cinnamon, vanilla, agave and salt in a dish. Whisk for 1-2 minutes until foamy.
Gradually add water and continue whisking until foamy.
In a separate bowl, sieve flour, baking soda, cinnamon and himalayan salt together.
Gently fold in flour mix into wet, trying to keep as much air in the mixture as possible.
Pour into cake tin.
Bake 25-30 minutes or until a toothpick inserted in the centre comes out clean – time will depend on both your oven and the cake tin you are using.
While the pancake is cooking, make the caramelised banana.
On a high heat, heat a heavy bottomed pan.
Once pan is hot, melt the coconut oil.
Place banana into the pan and pour over the maple syrup.
Swish banana through the coconut oil and maple syrup gently, then leave without touching for 2-3 minutes until caramelised on the bottom.
Gently flip the banana over and repeat – you want to get the as much maple syrup onto the banana as possible.
Gently remove from pan and set aside. Take care as they can be a little squishy.
To assemble, remove pancake from cake tin – be gentle as it is delicate!
Sprinkle berries and seeds on top concentrating berries in a pile.
Layer caramelised banana on top of berry pile.
Place on flowers.
Sprinkle with extra cinnamon and agave syrup if needed.
Recipe by
The Unimpossibles
at http://theunimpossibles.com/ceres-organics-x-the-unimpossibes-game-changing-gluten-free-deep-dish-pan-cake-with-caramelised-banana/