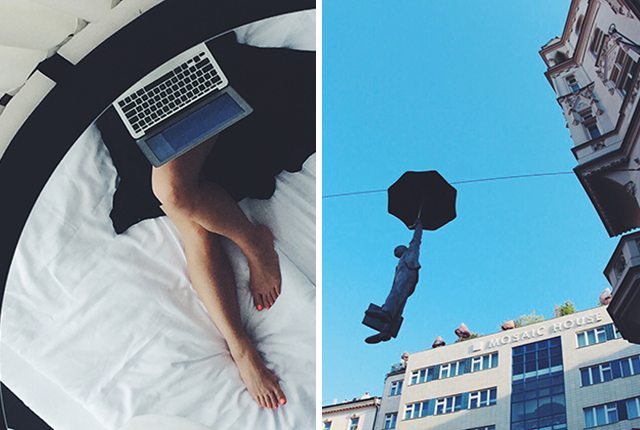 One of the best things about Prague is how far your dollar goes. Unlike London where I bled money using pounds, bringing in Aussie dollars to buy Czech Crown in an exceptional deal. The first night I got in, I bought two big slices of street pizza for around 40CZK a slice or a total of 80CZK which was around $2AUD. Even if you wanted to eat a little more luxe, most meals were still around 150CZK to 350CZK ($8AUD to $19AUD).
In part one of my three part series, we look at the both the The Fusion Hotel and Mosaic Hotel – two of Prague's coolest modern luxury accommodation at both the exxy and the budget side of the scale.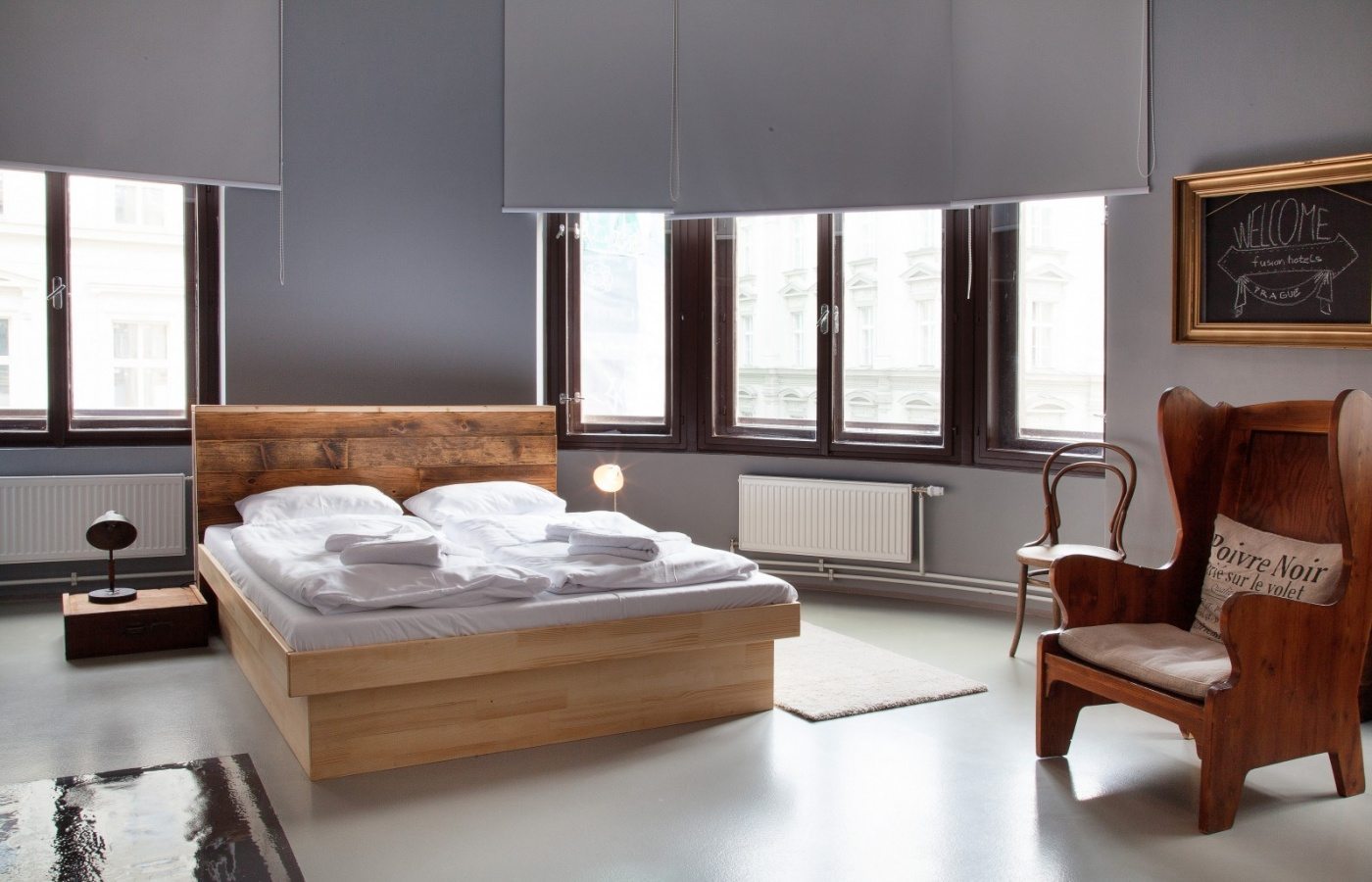 Prague or Praha (which means a 'threshold' – a rapid on the Vltava River) is often dubbed the mini Paris of Eastern Europe. Everything about the city is unbelievably pretty – pebbled sidewalks outline the plethora of old world buildings to create a town that has so much charm but unlike Paris it is exceptionally clean. There is hardly any modern architecture (in terms of exteriors at least) in the city and with beautiful old heritage buildings (the oldest one built in 1142!), there is no reason for it.
LUXE EXXY – THE FUSION HOTEL
The Fusion Hotel is one of the coolest hotels in Prague. As my concierge said "it is for people who have a young mind – they don't necessarily have to be young, for example we have people over the age of sixty stay here. If they have an open mind and like to try something new, this hotel is for them".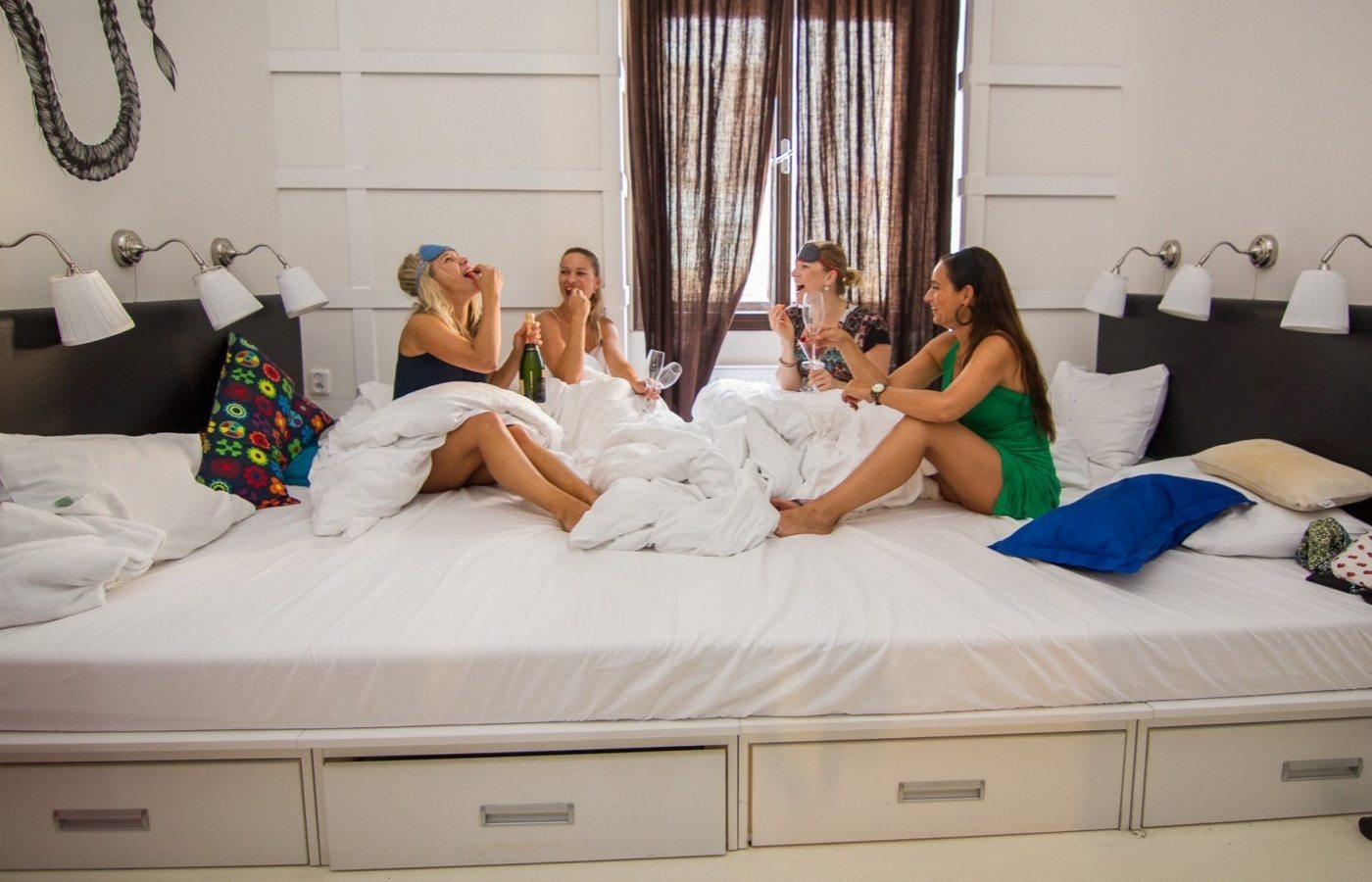 The hotel's main attraction is the variety of different state of the art designer rooms that they have. One of the rooms, The Xtensive Room, has the biggest bed in Central Europe – a six sleeper which would be great for a girls night or family vacation.  The standard rooms are also pretty cool featuring clean white minimalist design made interesting with stunning illustrated walls by up and coming Czech young artists.
Then at the top end of the hotel's offering there are the themed rooms such as the Vintage Room, Rock Room or the Love Room which is where I spent 3 nights.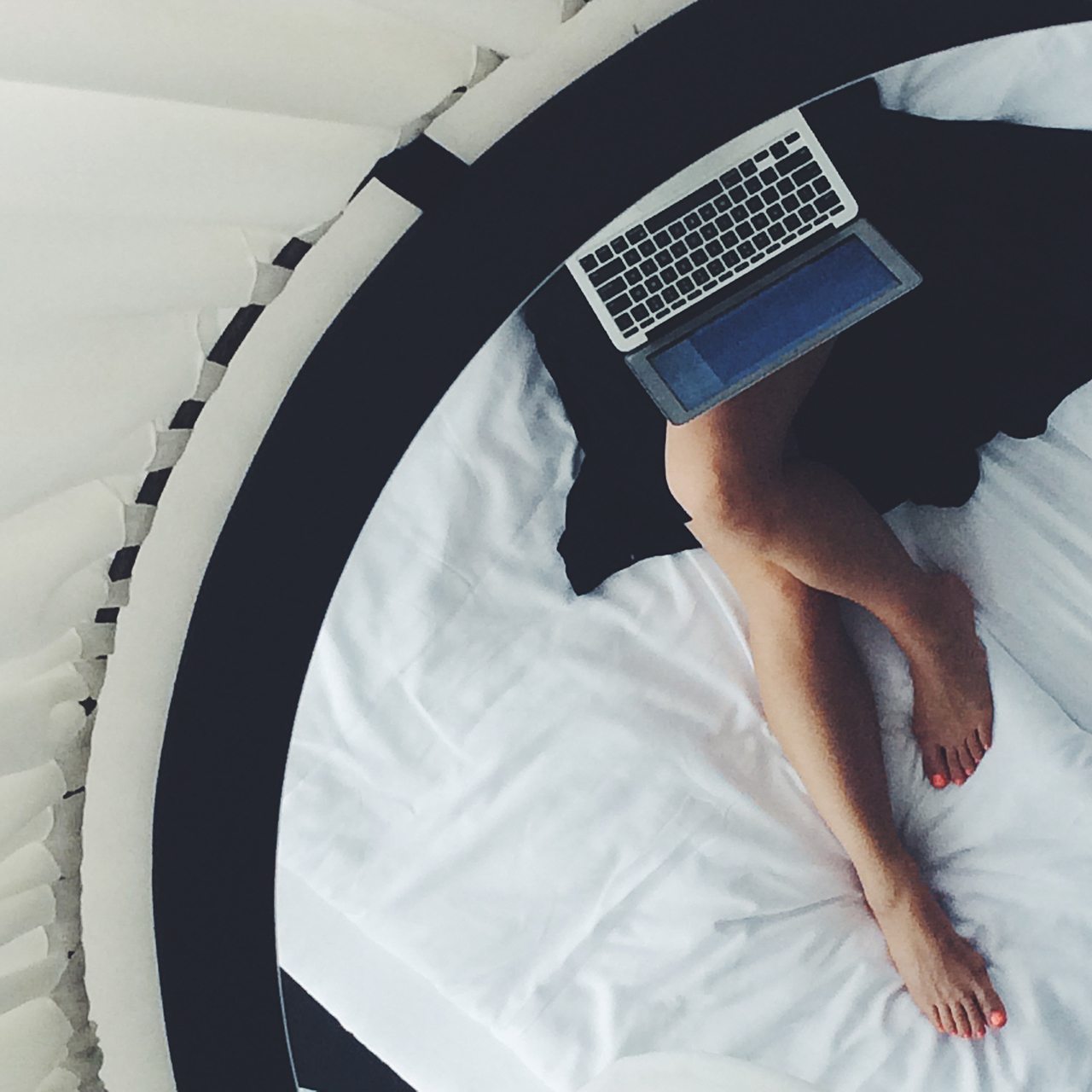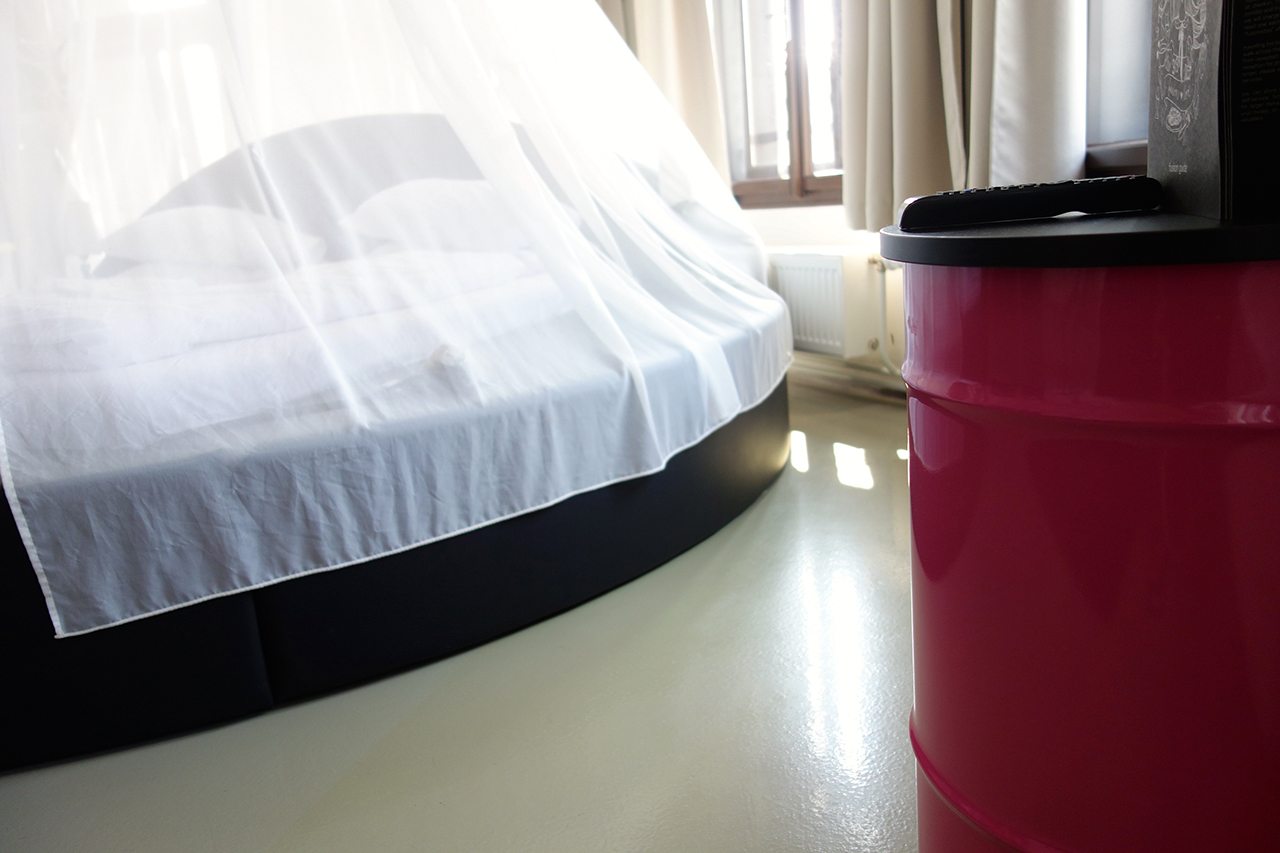 The Love Room was both amazing and hilarious at the same time. Designed with 'love' in mind, it featured a spectacular round bed (fashioned with.. erm.. ties on each corner 0_o) which was covered by sheer curtains which of course was draped off a rounded ceiling mirror which I must say was excellent for talking selfies from.. unfortunately the counter-side to that is that I know now what I look like from every angle.. a sight that once you see, you can not un-see!

It doesn't stop there though – they committed 100% to the concept and provided '50 Shades of Grey' literature on the shelves, fluffy cuffs and a complimentary gift box of every toiletry you would need for such a weekend.. I'll leave your imaginations to work out what was stocked in there.
Call me boring, but my favourite parts of the room were actually the rounded king size bed which was amazingly comfortable and dreamy, as well as the beautiful room overlooking the Česká pošta (post office). It doesn't matter where you stay on your travels, it is the little things that matter and anything else is just a bonus.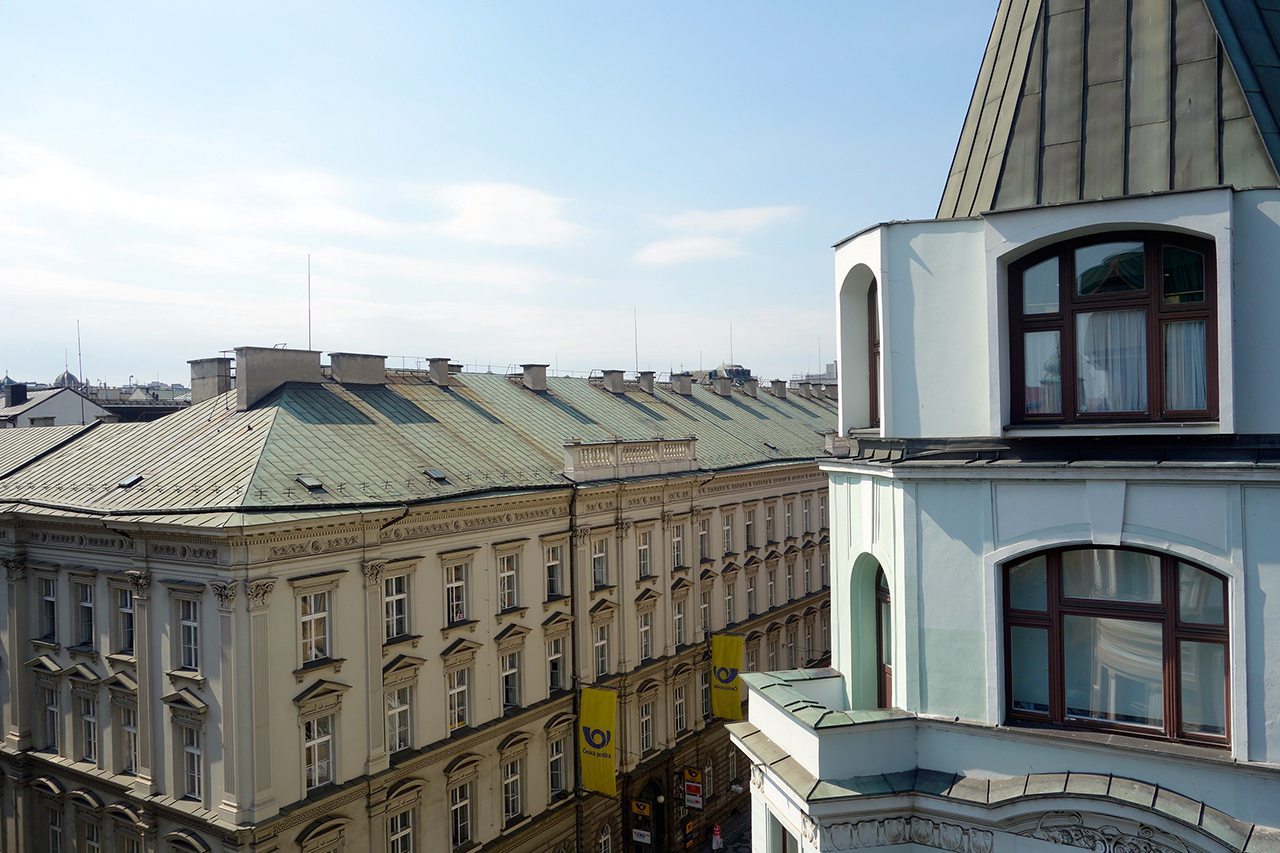 It is also worth mentioning, the Wi-Fi was awesome, every room had TV's where you can stream from your laptop using Samsung's AllShare DLNA as well as a free buffet breakfast, which included eggs, bacon, bread, juices and mueslis. A cool and unusual feature was instead of the traditional mini bar vending machines were on each floor for self-service treats such as the normal chocolates, water and soft drinks as well as mini bottles of liquor and condoms. Lol.
Click clicky:
Visit Fusion Hotel's website or follow their via their blog, Instagram, Facebook or Twitter. Reservations can be made via reservation@fusionhotels.com.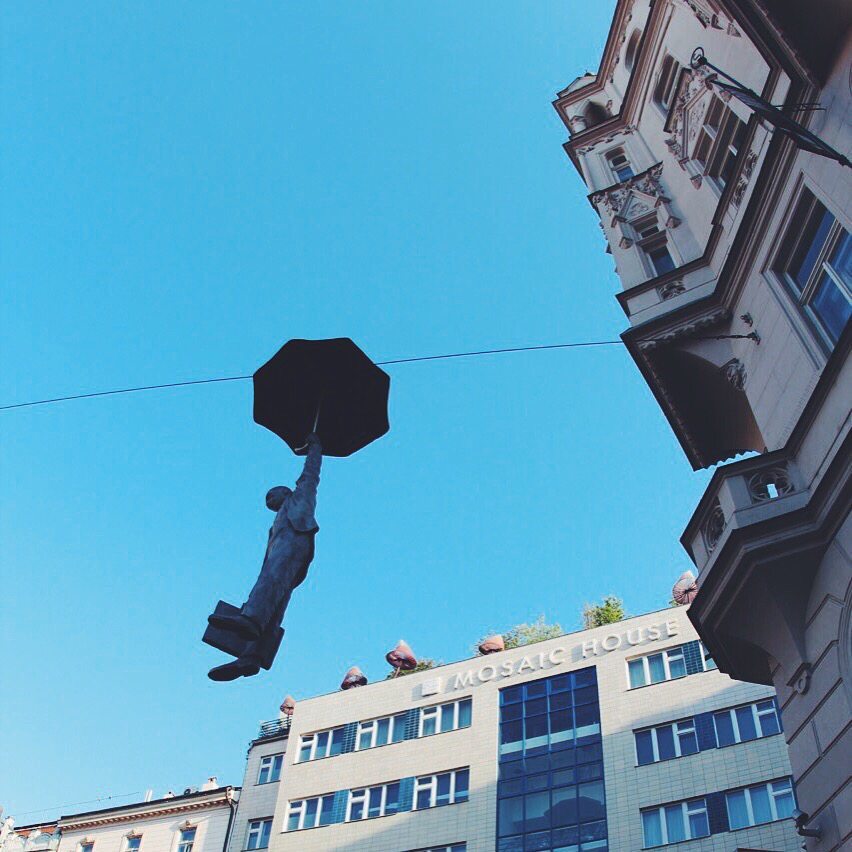 LUXE BUDGET – MOSAIC HOTEL
If you are looking for a more budget friendly offering which is still a little bit different then the Mosaic Hotel is an awesome choice to stay.
Its old building exterior is combined with unique art and design and they offer beds (hostel from around €12) , rooms (hotel from around €90) or private apartments (from around €136) – I was definitely there for the cheap hostel!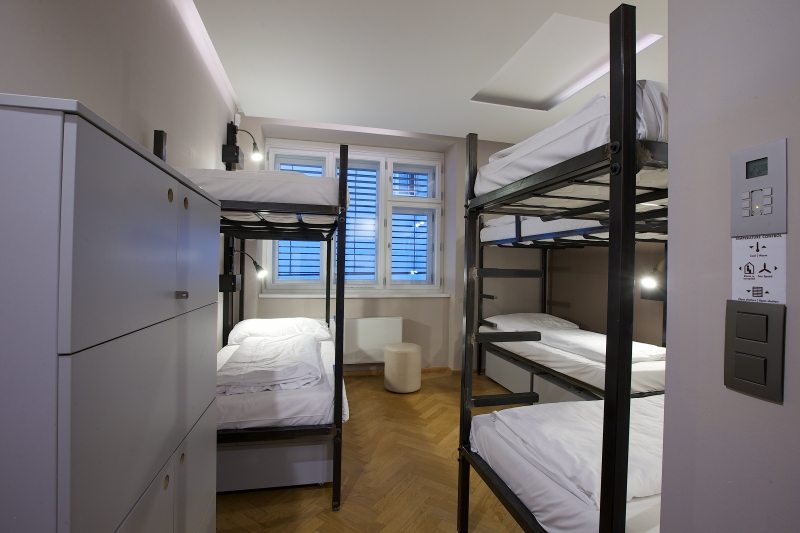 From the outside you can see its signature mushrooms sprouting out of the rooftop and in the communal outside lobby where patrons can meet and drink on the street. There is also a piece of artwork of a man hanging off of an umbrella on the above power pole.
The hostel room I stayed in was definitely one of the nicest hostels I stayed in. Even though I was staying in a room with five Irish sixteen year olds who were right into their raging, I had a great time. The six-bed room featured modern bunk beds with white linen – the pillows were lovely and soft and were as wide as the bed, which was superb. Like most hostels, in the room there were cubbies to store your belongings in lockup if you wished, however, the people I was staying with were trust worthy and the room had two swipper access doors to enter so it felt pretty safe leaving my stuff out in the open. What was great about the room was that each bed had it's own reading lamp and power points for both charging and texting multitasking. The bathroom was both modern and clean and actually quite luxe for a hostel.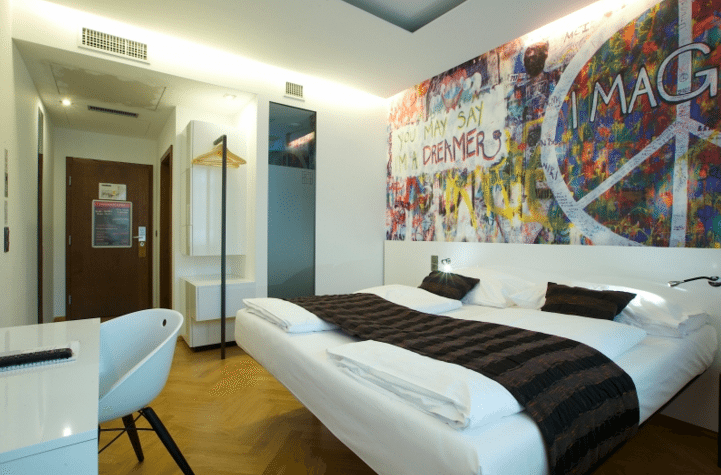 The staffs were nice and friendly, especially Marcelo who helped me check in, and he gave me a complimentary map of the key local hot spots and some good tips on where to go. Additionally, Mosaic has cute vintage look bikes to hire, complimentary earplugs on request, live music most nights in their bar/restaurant and a pretty decent (but not complimentary) buffet breakfast.
So Mosaic ticked all boxes for me – very central, cheap as chips and modern clean rooms that considered the little things, which make you comfortable away from home.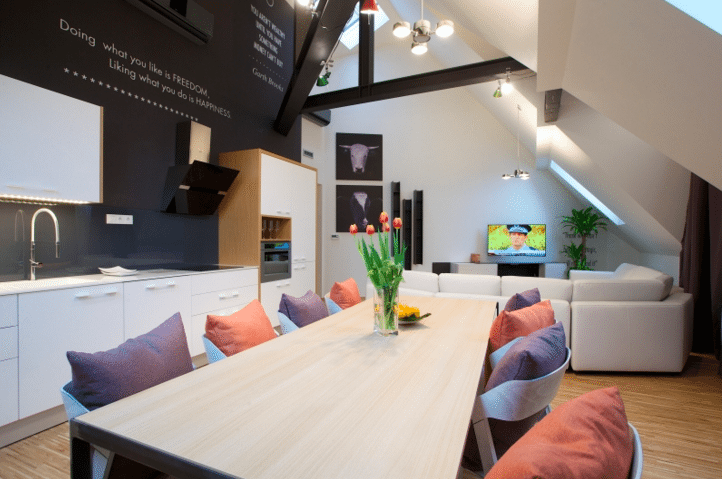 Click clicky:[line]
You can book a room at Mosaic House from their website or follow their antics via their blog, Instagram, Facebook or Twitter.
[line]
That's accom sorted… don't forget to stay tuned for parts 2 & 3 on how to travel like a boss in Prague!
[line]