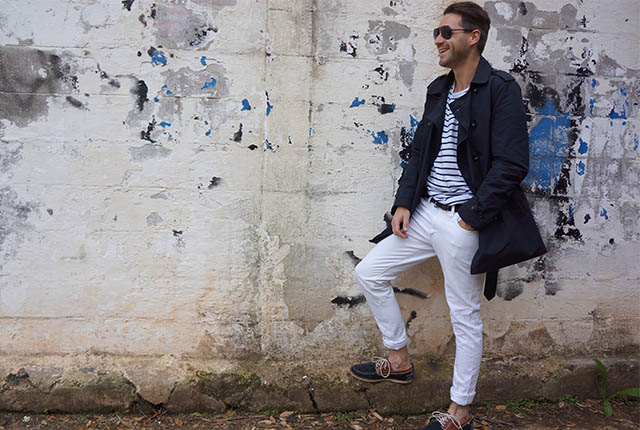 White pants.
You're probably a little startled and shocked that I'm even putting the words white and pants together. We'll it just happened. I'm not afraid to talk white pants, and further more not scared of wearing them. Seriously what is all the fuss about? White, it's a colour, it's like black but whiter.
We should spend less time being concerned with what other people think, and more time being who you want to be. [pullquote width="300″ float="left"]Do you really care if a girl might question your masculinity based on the colour of your pants? If that's how she judges you, she can jog on I say.[/pullquote]
Don't be afraid to try the unknown. Now don't get me wrong I know full well that wearing white pants requires a fairly decent level of confidence, but white is starting to appear more and more on the men's fashion scene and if you're up for it, you could be a part of it, or even better leading the pack.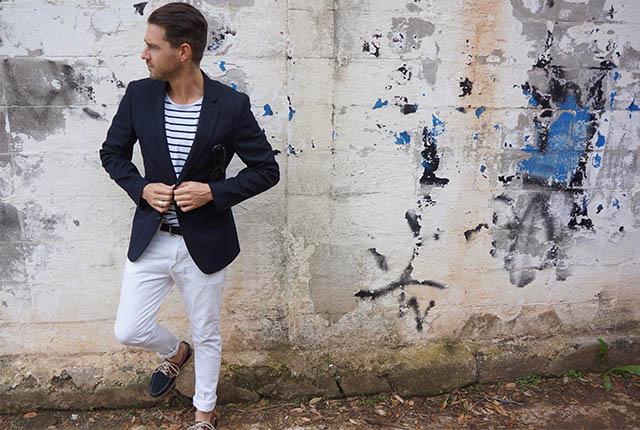 Introducing white pants for gents. I'll show you how you too can pull off white pants whether you're after the casual or more sophisticated look, white works and you'll be left looking, well, pretty fucking rad. If it's your first time, your best bet is to start with the weekend approach to get yourself familiar and comfortable.
So the weekend has landed and you're keen to look good, but keep it casual and easy. To do this find yourself a pair of white pants that have a good level of street style to them. This will allow you to be flexible with how you then put the rest of the look together in terms of tees, jumpers and shoes. A few recommendations from some great local labels that are nailing the white pant scene are the likes of I Love Ugly and Zanerobe, plus another label I'm always following due to their forward thinking is Publish Brand from America.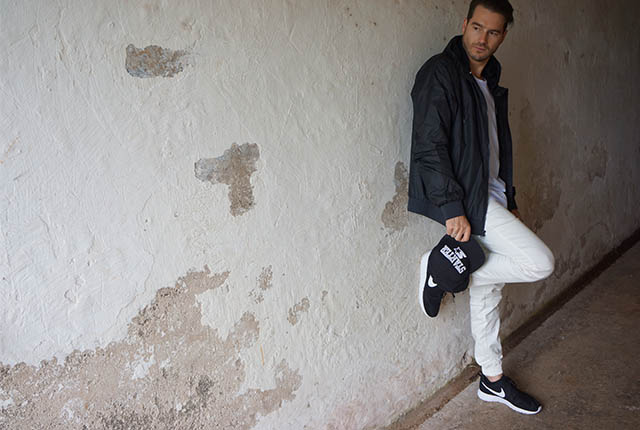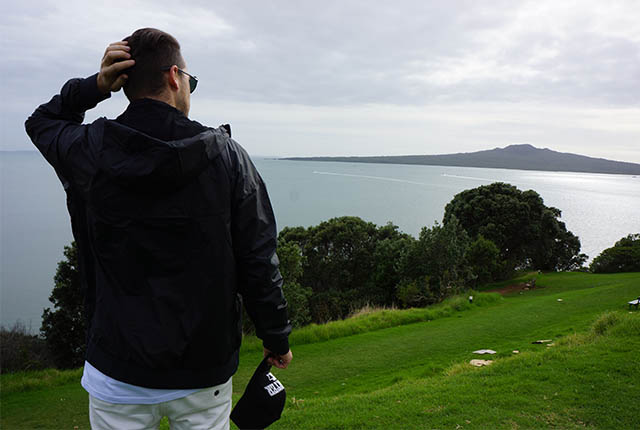 Here's how I put together the above casual weekend look as we head into the colder months. I'm first off wearing the very popular I love Ugly's Bobby pant in white and I've managed to also go double white for the top layer with a Huffer Certain Tee and this works due to the fact this white tee is a more pure white than the pants. I've then gone with some new season Nike Roshes from End Clothing and to complete the look the Nike light rain jacket from my friends at Superette.
The key really is to try a few different items of clothing on, try some colour, a plaid shirt, a few layers and see for yourself what you think works. [pullquote width="300″ float="left"]Shit, I get it wrong all the time, but for me that's equally important, it's those moments I figure out why it didn't work and what does.[/pullquote]
What I've put together for this feature is just to show you how I felt on the day and in this instance I wanted to keep it very simple and minimal tonally. The fun in it all is about giving different things a go to see what works for you and hopefully the result tells a little something about who you are.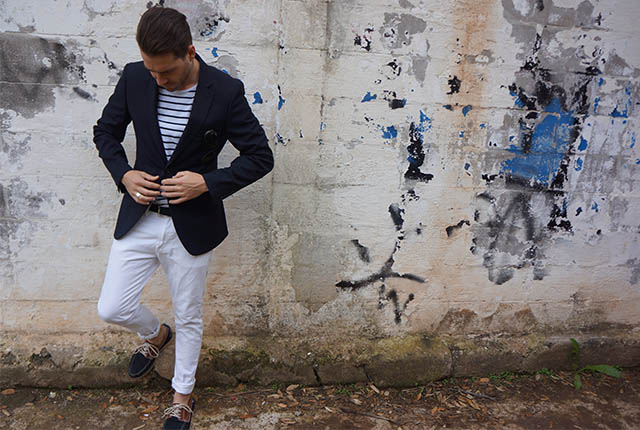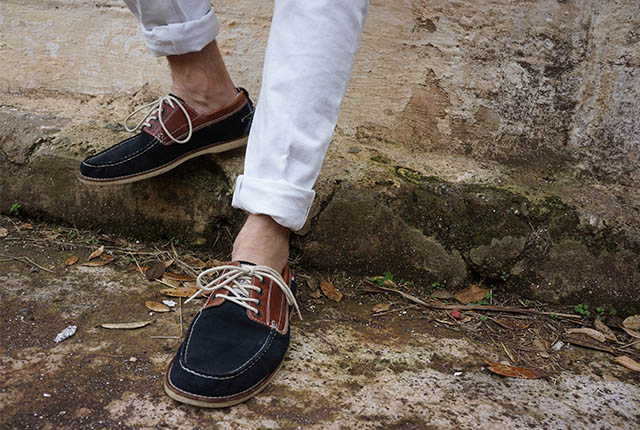 Next up is the dress to impress approach. Whether you've got a few ladies in the office you'd love to impress or you've got an event you want to look sharp for, then here's a few ways to make the white pants work in your favour.
Here's the breakdown of what I'm wearing. Again I started with the pants, and to be honest I probably do this most of the time. I let the pants influence the rest of the outfit. And the more I mess around with it, white really does offer up a great level of flexibility. I'm sporting some brilliant White Ralph Lauren Denim Jeans that I ordered online and I've rolled them up as I'm wearing some classic Tommy Hilfiger boat shoes which work well together. You can't see them, and that's the point, but I've got some no-show socks, which are ace if you're wanting to do the whole rolled up pants look without the sock, which is definitely a 'thing' at the moment.
As you can see I've opted for a basic navy blue striped tee from AS Colour and I got this idea to pair with white pants from something I saw on Instagram way back when and have always wanted to try it for myself. Then I've completed the look with either two options; the dark navy Zara trench coat or the slim fit navy blue jacket from Top Man to add that level of sophistication and suaveness that will leave no doubt in people's minds that you know what you're doing. I threw in the Ray Ban shades cause they look boss. There you go, one complete look done, and all evolved from a pair of white jeans.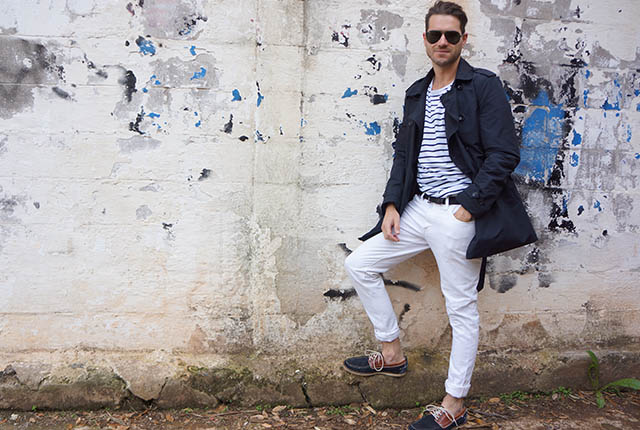 So all that's left now is for you to get yourself a pair of white pants, and if people question you, don't concern yourself with them, they're just jealous you've got the confidence and ability to rock out in white pants.
Embrace the freedom.
JB
Jaheb Barnett
JAHEB LIVES IN AUCKLAND, NEW ZEALAND AND SPENDS HIS WEEKDAYS WORKING IN THE ADVERTISING INDUSTRY. IN HIS SPARE TIME HE'S OFTEN OUT SURFING THE COASTLINES, PLAYING TENNIS AND HITTING THE NIGHT LIFE WITH MATES. HE 'S ON A MISSION TO HELP GUYS FEEL CONFIDENT IN WHO THEY ARE BY SHARING SOME THOUGHTS ABOUT MAN RELATED STUFF, FROM MEN'S STYLE, TO FITNESS AND HEALTH. YOU CAN DROP HIM A LINE AT JAHEB@THEUNIMPOSSIBLES.COM FOLLOW HIM ON INSTAGRAM _JAHEB