An Ayurvedic holistic treatment is one of the best things to do if you are travelling in Bali and at Sukhavati you can experience it to its full potential. The five-star resort offers a variety of programs from one to ten day Ayurveda stays. Basically you can stay here from as little or as long as you like (one pair of girls had been here a month) but either way you'll experience a total detoxing health retreat.
The grounds itself are an oasis for healing. Its lush arches of land are covered with palms, banana leaf trees and other manicured Balinese greenery. If you are hanging on the estate for a couple of days you can stay in one of their luxurious modern Balinese villas and have access to either private or shared swimming pools, amazing healthy communal meals, yoga, meditation and a myriad of relaxing areas such as the River Deck or lawn area which offers monthly gala dinners under the stars.
We did the One Day Taste of Ayurveda – a condensed but powerful program of massage and treatments designed for those who are looking for one complete day of indulgence.
For those who are new to Ayurvedic therapy, it's an ancient system of healing from India. "Ayur" means "Life" and "Veda" means "Knowledge" so Ayurveda is the "Science of Life". So the program takes into account all elements of mental, emotional and physical health and treatment is adjusted accordingly.
We arrived at Sukhavati after staying out late in Seminyak so we were both a little bit hot and tired. We both also were a bit swollen from our respective flights. Thankfully the only big task of the day was to relax.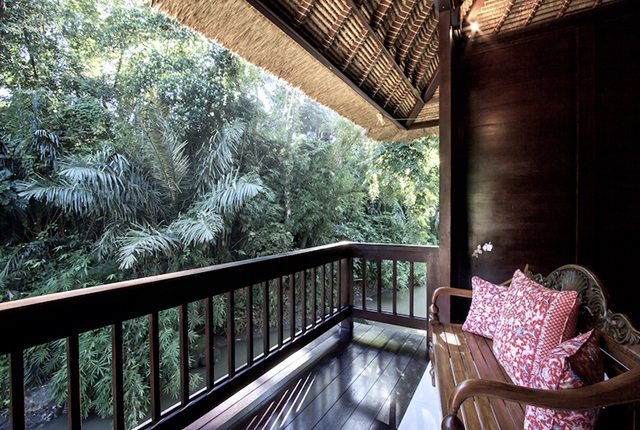 After a quick refreshing welcome drink we were lead to our individual 'River Spa Treatment Pavilions' to have our first treatment of the day – a head and shoulder massager with leg scrub and foot massage. The massage was done on an open air private balcony facing the Penet River that ran the back of the property – it was really relaxing being surrounded by nature while having my sore puffy feet worked on – much better than a sterile white room. I don't mean to brag but I was pretty much in Heaven.
After the first treatment I was told to strip off and put on disposable panties. I came out all wrapped up snug in my towel trying to not accidentally expose myself. I laughed about this later as:
a. they were going to see everything anyways and
b. they don't care and see this stuff all day everyday!
The second treatment was an 'Abhyanga' full body oil massage. This was probably my favourite of the day – two therapists worked in perfect symmetry to get out every bit of stress from every back and front part of my body. This technique is used to stimulate the lymphatic system, which helps to liquefy toxins, normalize blood pressure and eliminate impurities – e.g great for cellulite! The oil left my skin extremely soft and moisturised, which was perfect after getting a bit dry post sunburn.
The full body massage was finished with a 'Shirodhara' hot oil scalp massage which is designed to help alleviate mental strain, insomnia, stress and anxiety. The herbalised oils felt beautiful and smoothing and like nothing I have ever experienced. Expect the oil to stay in your hair for a few days until it washes out.. It was kind of good though as it helped protect against all the beach and pool effects.
After the first two treatments it was time for a communal lunch in the 'River Dining Pavilion'. It was exceptionally delicious – think gourmet vegetarian Indian-Balinese fusion dishes based on Ayurvedic principles for nourishment and cleansing. They are all optimised for digestion and wellbeing and only the finest organic seasonal vegetables are used.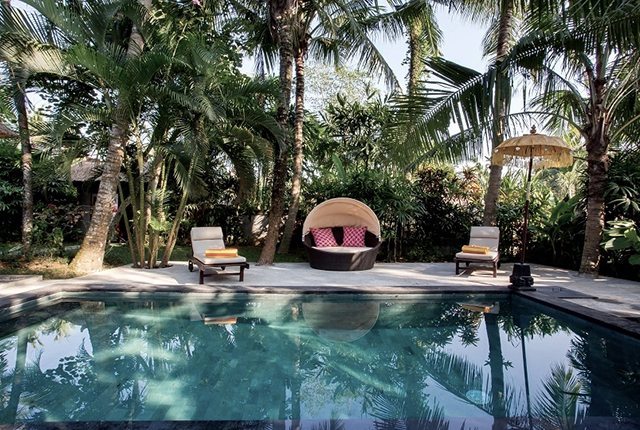 It was interesting talking to the other guests who had been there for a range of days – they all looked very relaxed and cleansed – I wondered what it would be like to do it for longer. Obviously no alcohol or caffeine was allowed on the property. While some relished the chance for the break, some couldn't handle it. One guy drove half an hour off the property  each day to get his daily coffee fix.
After lunch we had a dreamy facial with a simultaneous foot massage which was very indulgent – I could definitely get used to having people pampering me all day everyday.
The final part of the package was a one on one consultation with the in house Ayurvedic doctor Dr Raju who asked me all sorts of emotional and physical questions. We talked a lot about my bowel and eating habits and made recommendations for me based on my blood type. Apparently I run hot so I should tweak my diet accordingly. It was very interesting and was in line with a lot of the health guidelines I already follow so that was nice.
Overall the One Day Taste of Ayurveda was much more than I expected. They really cram in a variety of body and soul-nourishing experiences that made me feel very well pampered indeed. If I were to come back I would love to give one of the multi-day treatment programs a go because I think it would be great to reset everything and feel the full effects of what they have to offer.
Getting there:
Sukhavati is located in a local village in the area of Mengwi, about 30 minutes inland from Seminyak and 40 minutes from Denpasar airport. Return airport transfers are included in most of their packages.
Where next?
After Sukhavati we stayed a couple of nights in Vila Kubu in Seminyak!
The Unimpossibles visit was courtesy of Sukhavati.
[line]
Sukhavati Contact Details://
Website / bookings, Instagram, Facebook
Email: rejuvenation@sukhavatibali.com
Australia Phone: 1800 759 826
Bali Phone: +62 361 900 6128
Address: Br Bebengan Tangeb Abianbase Mengwi Badung 80351
[line]