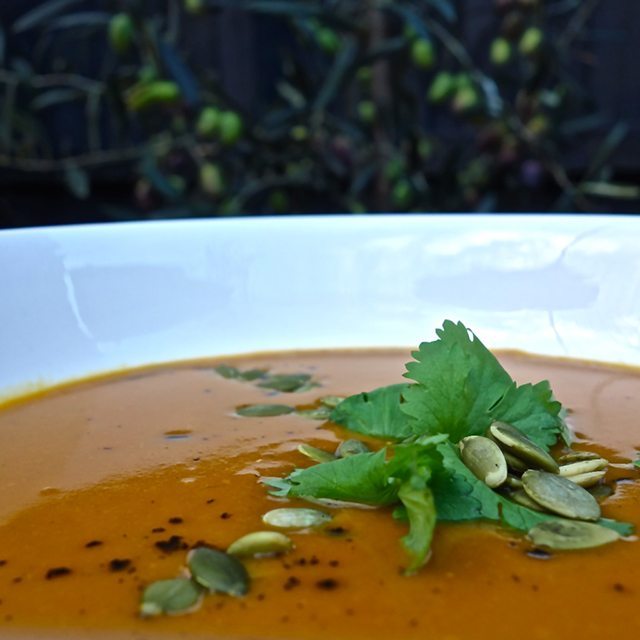 This soup is a great twist on the classic pumpkin soup. Pumpkin has a dance party with coconut milk, chilli, ginger and coriander to give it a Thai feel. The soup is then bulked up with lentils for a more nutrient dense, filling meal.You can probably guess the biggest health benefit of this soup, as is given away by its bright orange colour. Pumpkin is full of beta-carotene, which converts in the body to the super important antioxidant vitamin A. Vitamin A helps our eyes adjust to light, bone and tooth development, reproduction and our immunity – it may also help prevent the onset of certain cancers. I myself hate oxidising, so I try to include a lot of orange and dark green in my diet.
Pumpkin is also a complex carbohydrate, which tends to take its time entering the bloodstream, helping to prevent that common issue of hanger. Hopefully that means that mid afternoon, you can refrain from attacking your colleagues with the stapler due to low sugar induced rage when they follow up on outstanding requests. Very. Important. Vegetable.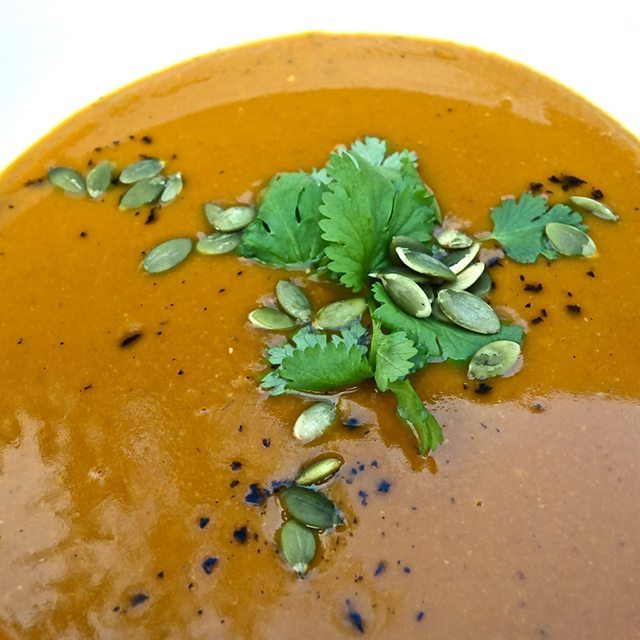 Spicy Thai Lentil and Pumpkin Soup
Ingredients:
1/2 kg pumpkin (I use the cheap traditional kind!), cut into thick wedges
1 cup light coconut milk
1 large onion, diced
1 Thai birds-eye chilli, diced
3 garlic cloves, crushed
2 cm fresh ginger, peeled and diced
2 tablespoons coriander, roughly chopped
1 cup red lentils
3 tablespoons brown rice miso paste
4 cups water
Olive oil or other preferred oil for baking
Himalayan salt and cracked pepper, to taste
To garnish:
Pumpkin seeds
Black lavas sea alt
Coriander
Directions:
Preheat the oven to 180 degrees C. Give the pumpkin the rub down with oil, salt and pepper. Obviously don't soak the thing in oil, but you want even coverage.
Roast for 40-50 minutes or till a skewer inserted in the middle can push through the skin with no resistance.
Remove the seeds and skin and set aside.
Sauté the onion low and slow until the onion is translucent and softened, which is around 8 minutes. Add the garlic, chilli and ginger and sauté another 2 or so minutes until fragrant.
Add the pumpkin and coriander and stir through.
Add the miso paste, water, lentils and coconut milk and stir to combine.
Bring the mixture to a boil, then simmer over low heat for an hour to reduce the liquid by about half. Stir frequently to prevent lentils from sticking and burning. If it's looking too dry, add more water.
Cool slightly, then using a blend stick, blender or food process, purée until smooth.
Adjust seasoning.
Garnish with coriander, black lava salt and pumpkin seeds.
This soup is fabulous with your choice of bread, whether it be sourdough, a gluten free variety, or a roti!