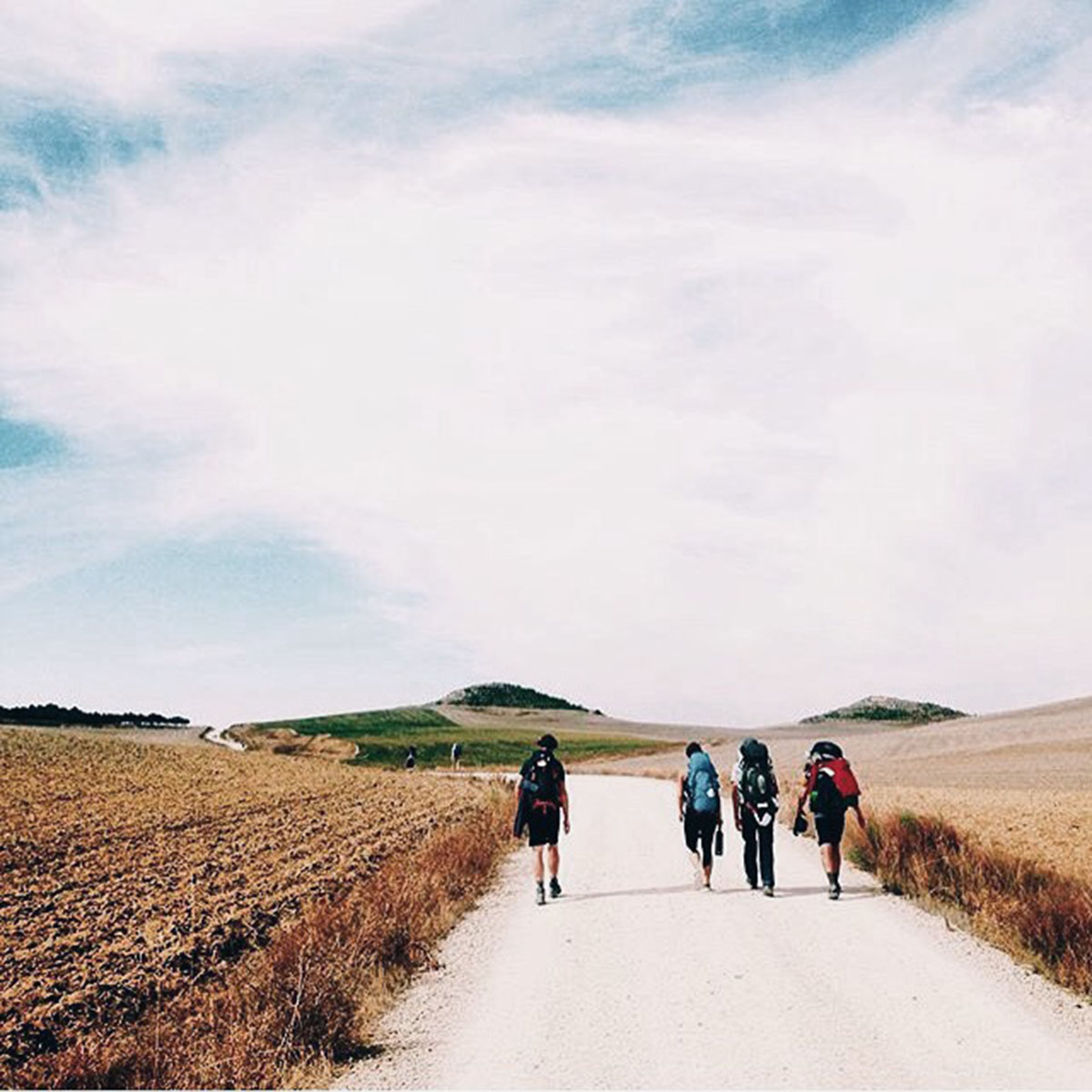 Oh hae again! Thank you for tuning into my series on How to Survive El Camino de Santiago, a 780km walk across Spain and how I did it as a single female traveller in only 25 days. This brief guide is an FAQ covering all sorts such as; Why I walked 56km in one day and why you don't have to; How to manage your health and body while walking the Camino; Why a guided tour is a stupid idea and also all about the crazy characters you meet such as the man who told me my "heart and vagina were closed!" It was awkward and made me uncomfortable.
[line]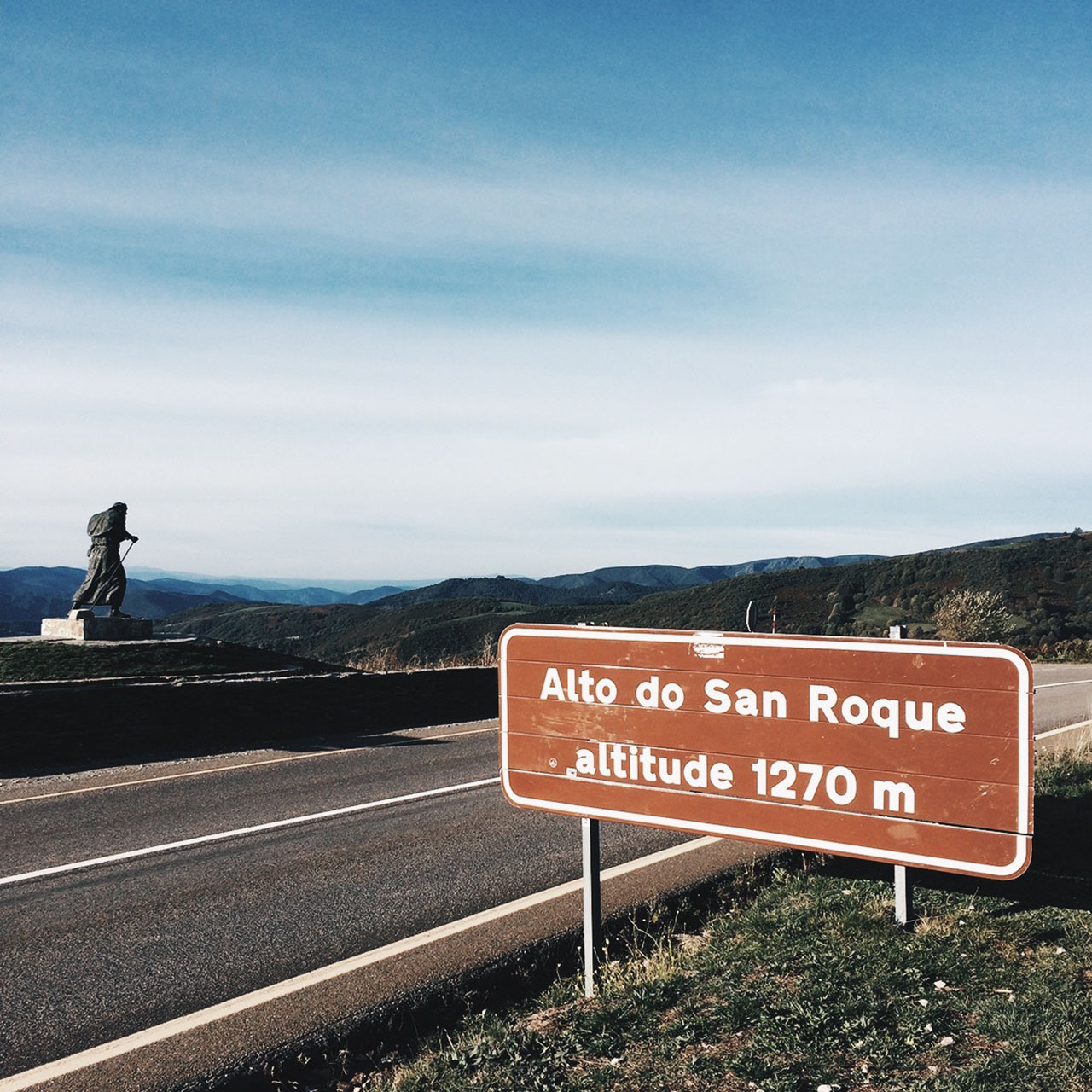 How much do you walk a day?
So.. What is it like to walk so much every day? Well to tell the truth it can be full on at times. It sounds cheesy, but it is really about you, your pace and your way. I did it in 25 days but most people follow the John Brierley guide that sets the pace for 33 days.
Even if you follow his book, you don't have to stick to the stages – some days you will want to walk longer, some days less. Some cities you will want to hang around in or you might just feel like a rest day. How far you walk depends on your speed, fitness level and goals. Some people skipped parts by catching trains or buses as they were on time restraints, were injured or just didn't want to walk certain parts, as they knew they were mainly highway etc. As mentioned, it is all up to you.
[line]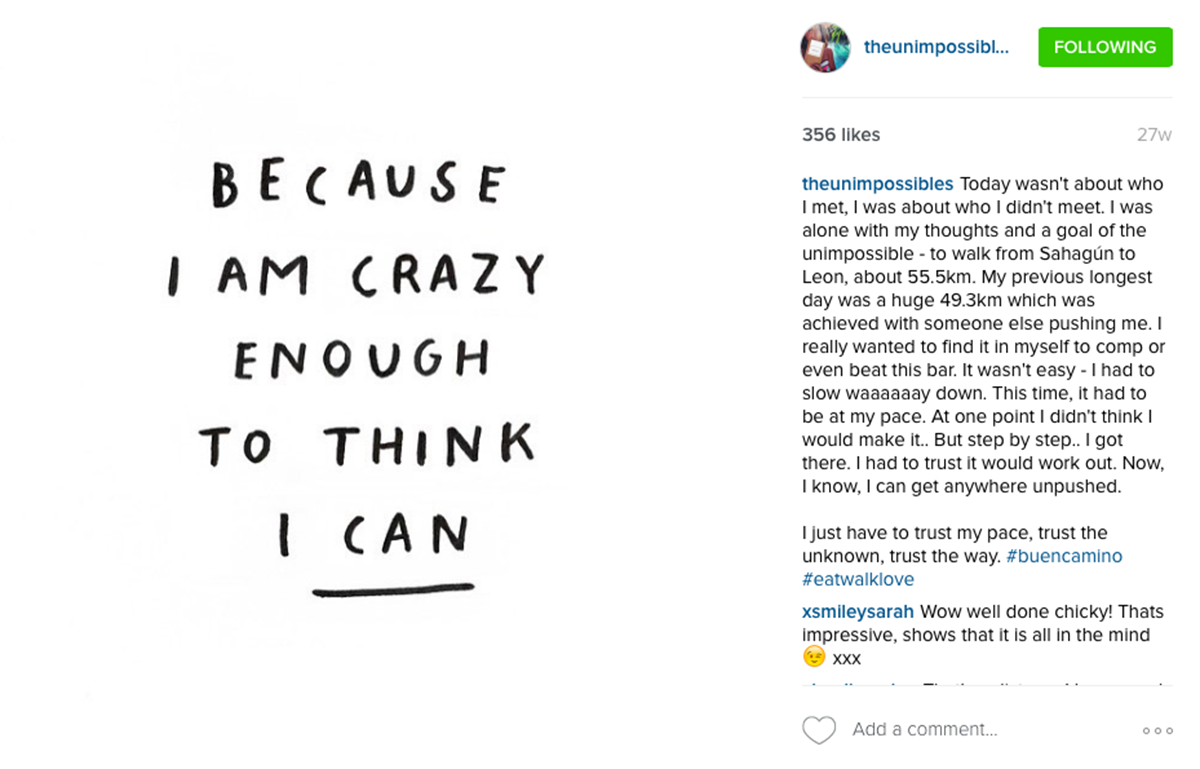 [line]
I had a super crazy goal to walk the entire Camino in 25 days from Saint John Pied de Port. This would work out to be 33km a day, which isn't too bad, but I only decided about 10 days in to the walk that this was my goal. So at the start I did some really soft days… then in the last week I was literally walking a marathon (42km) a day. And that's not even the longest…one day I walked 56.4km from Sahagún to Leon. I would not recommend that one haha!
Why did I walk that long? Well the second longest day I walked was 49.3km. But I did that with my friend Daniel, and I only did it because he pushed me and then the day after I broke. About 20 km into the day I literally couldn't walk another step I was in so much pain… I had been walking with Daniel for about 10 days and although we had formed a strong friendship, I was tired from walking at his tall man pace and I knew I needed some space to get back to what I was doing the Camino for… myself. So he went on and landed somewhere in the middle of Sahagún and Leon, continuing to Leon the next day.
I woke up that morning with a text from Daniel asking if I was crazy enough to walk to Leon. Suddenly, I thought to myself, "What if I could do it? If I could make 49.3km with someone pushing me, can I do it by myself?" I had to know that I could push myself with no one else – not just on the Camino, but as a metaphor for my whole life. So I thought, "Ok, what if I could do something this ridiculous? What would it take?" so I put everything I had learnt into practice – it took me about fourteen hours, but I got there! See my tips for walking further down this article.
[line]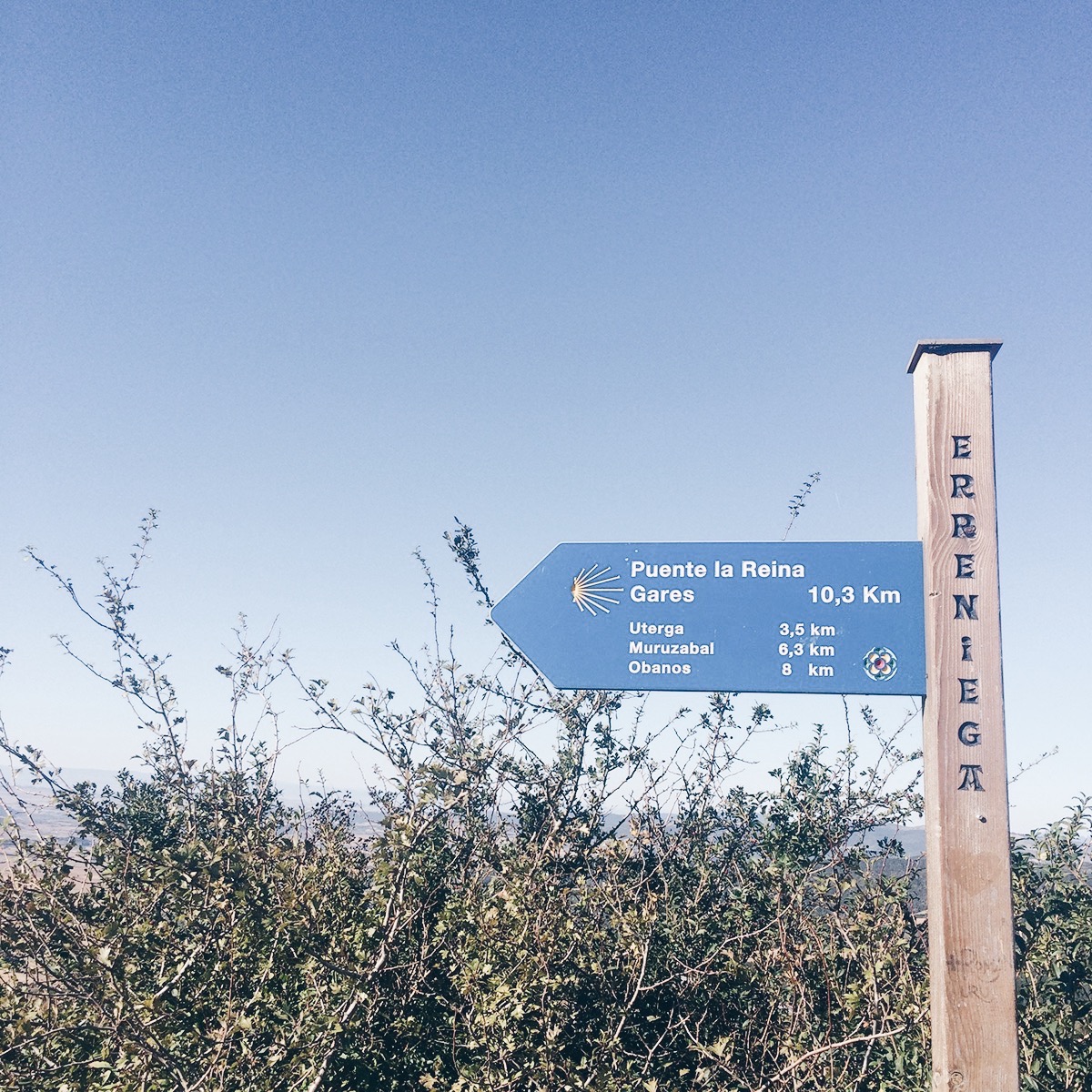 How do you know where to walk &
Do you need a map or a guide?
Basically the whole track is very well marked, and you just follow little yellow arrows and the Camino shell the entire way.
I will admit I was on a strict budget and didn't see the point in buying the guide. The way I saw it was that it was another book that I was going to use once, and then have to lug around for the rest of my travels. This was actually good because almost everyone else had a guide and was happy to lend their copies to me – all it takes is 5 minutes to read what stage you're on – it was a good way to meet people actually.
When I started at Saint Jean Pied de Port I was actually given a comprehensive list of the distances between each town, all the Albergues within each town as well as what amenities they have, when they operate (some are only open in Summer) and how much they cost. This was my only hardcopy guide. I liked to calculate how many kms I was going to walk each day and how much further I needed to go so I founded this awesome Camino Online Distance Calculator which was really handy.
[line]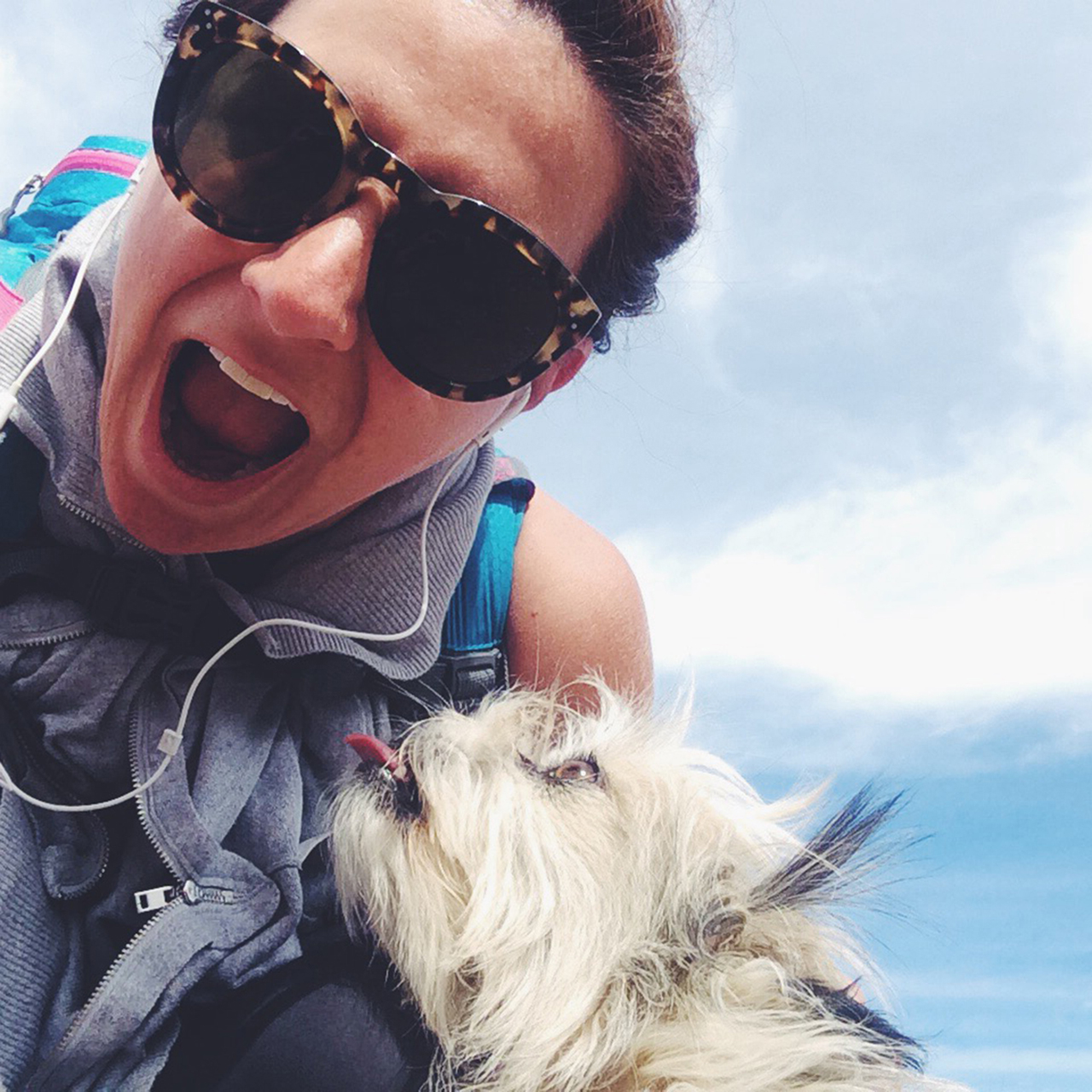 Should I join a group tour?
There is absolutely no need for a guide or a tour. In fact, if you were looking to do this for spiritual reasons, you would hate it. Not only is a tour expensive, you also kind of miss the point of the Camino. I mean sure it has its place if you want a bus to cart your stuff and only want to do certain parts of it, but at the same time you will be constrained by the pace the entire group goes and be stuck with the same people. The joy of the Camino is to go at your own pace, and be with whom you want to be as much or as little as you want.
[line]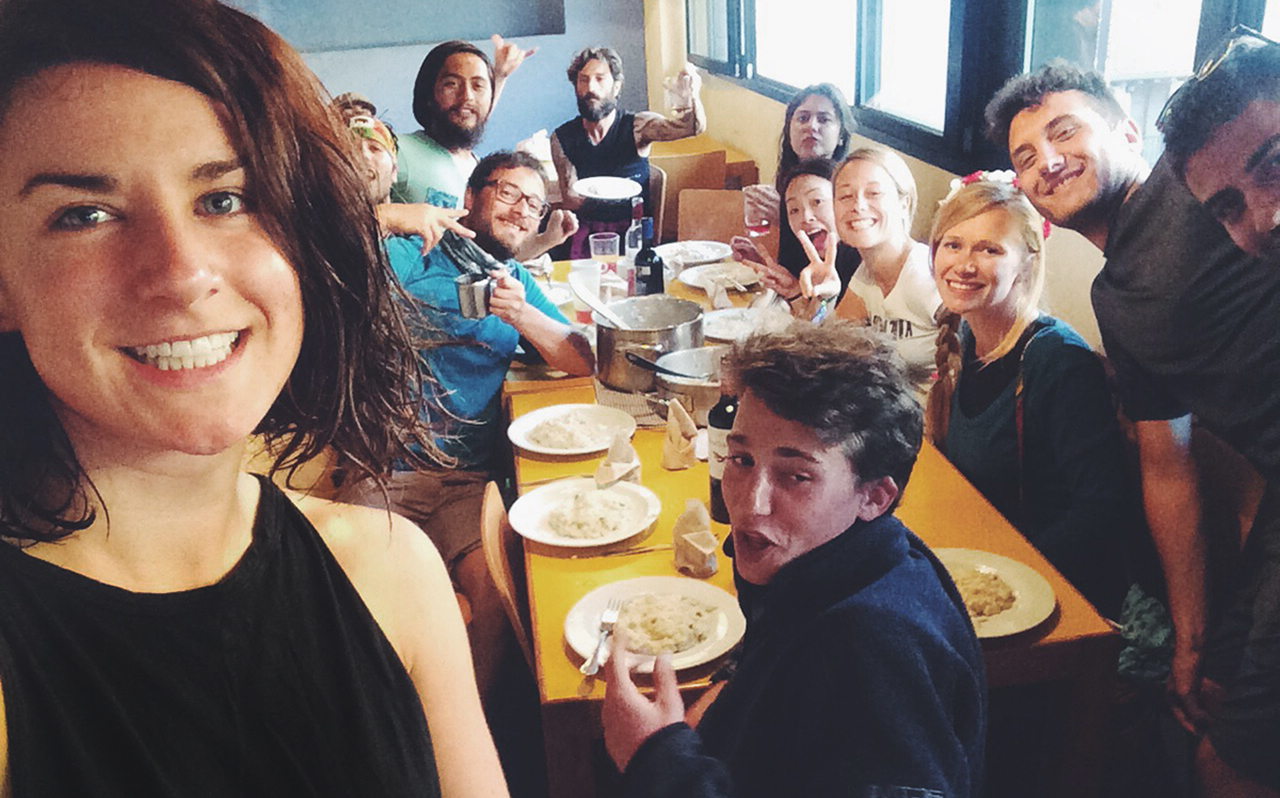 TRAVEL BUDDIES:
Who will you meet?
I made and left friends all along the way because everyone walks to their own different paces and some people like to stay at towns or skip some e.g. take a train. Everyone is friendly and wants to help everyone else out so often we would have communal meals and hang out. As all there is to do, you get to know people VERY quickly.
I met ALL sorts of people of all different ages and backgrounds – most kind of fall into uni age or post children age, as they are generally the ones who have free time and no kids. Here is a brief handful of people I made friends with, in no particular order:
A 19-year-old English Gucci model who had a gf (companion?) who was with a 50-yr-old leggie blonde. Not sure of their relationship status but dem cheek bones though.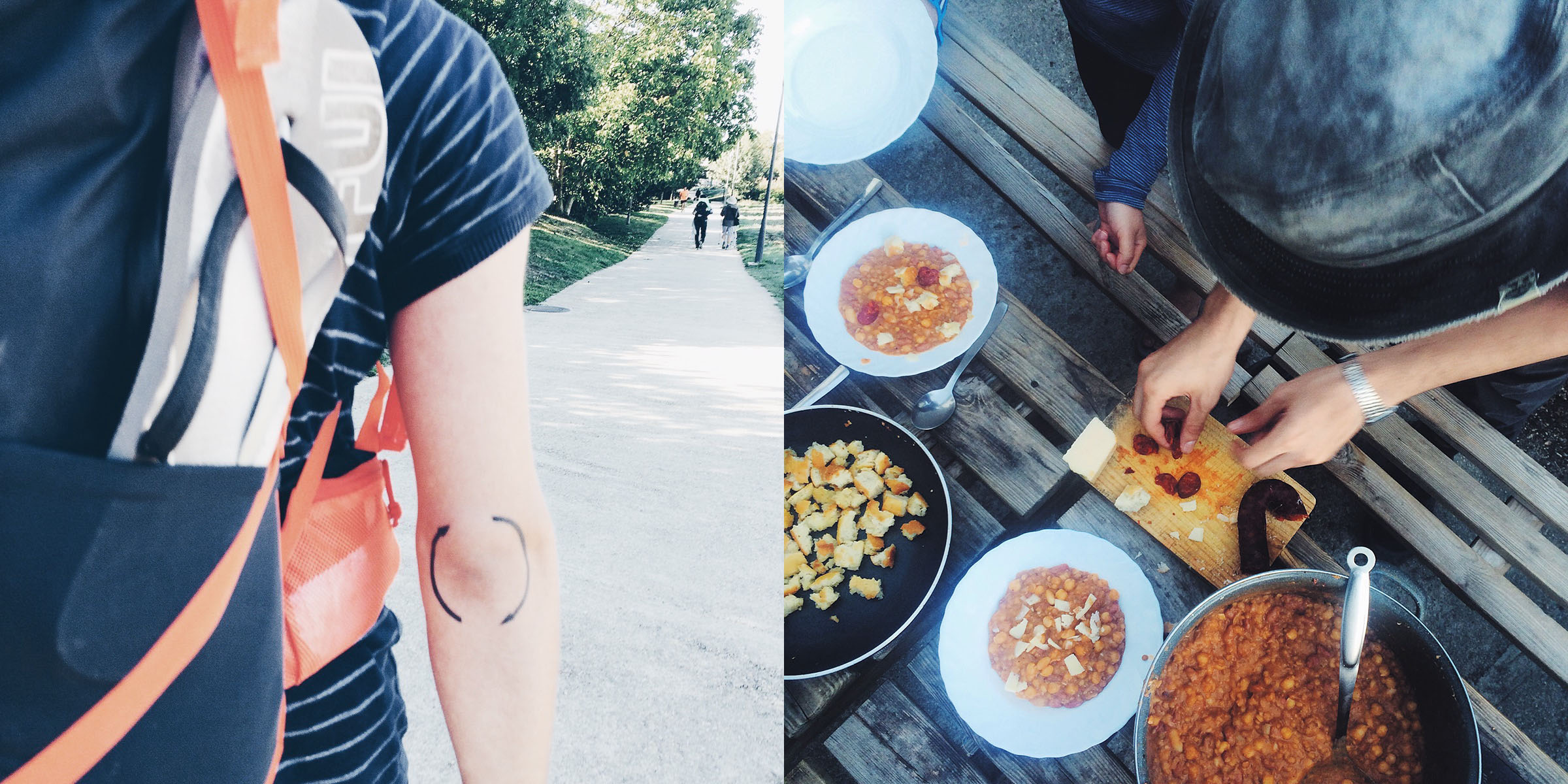 Two 21-year-old Italian boys, one of whom tried to make it with me in the dirt field (c'mon! I'm 29, way too old for him!!). The other was a Michelin star chef at a well-known London restaurant who made communal dinners for everyone each night.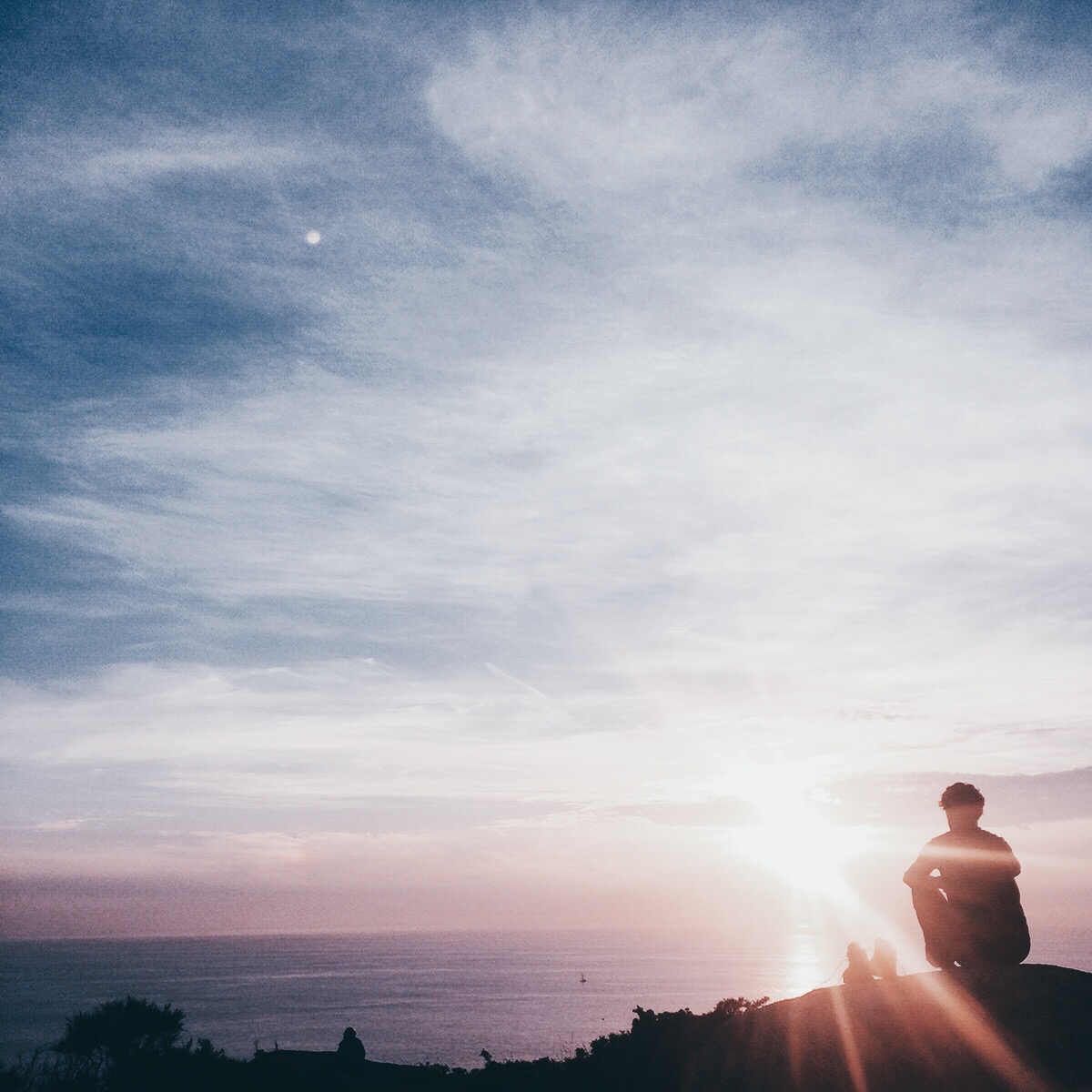 A 43-year-old man from Sydney who had quit his corporate job to travel for 18 months.. Now CEO of a major healthcare project. One of eight, his mother went back to work after the nest was empty, starting in admin and quickly becoming a manager after displaying great managerial skills – after getting so many children to work for nothing, she could motivate a workforce quite easily.
A 50-year-old mother of 3 who was walking the Camino in 15 days. She told me she wasn't even the fastest walker she had met – the fastest were an extremely religious couple who wanted to do the Camino in the hardest way possible as a tribute to God. They walked 780km in only 10 days – waking at 4am and walking until they dropped. At the end of it the woman apparently looked like a shell of a human.
A middle-aged German spirit healer who told me my "vagina and heart where closed". This was after I walked something like 36kms and was extremely tired and sore. I very quickly said "Bien Camino!" to him.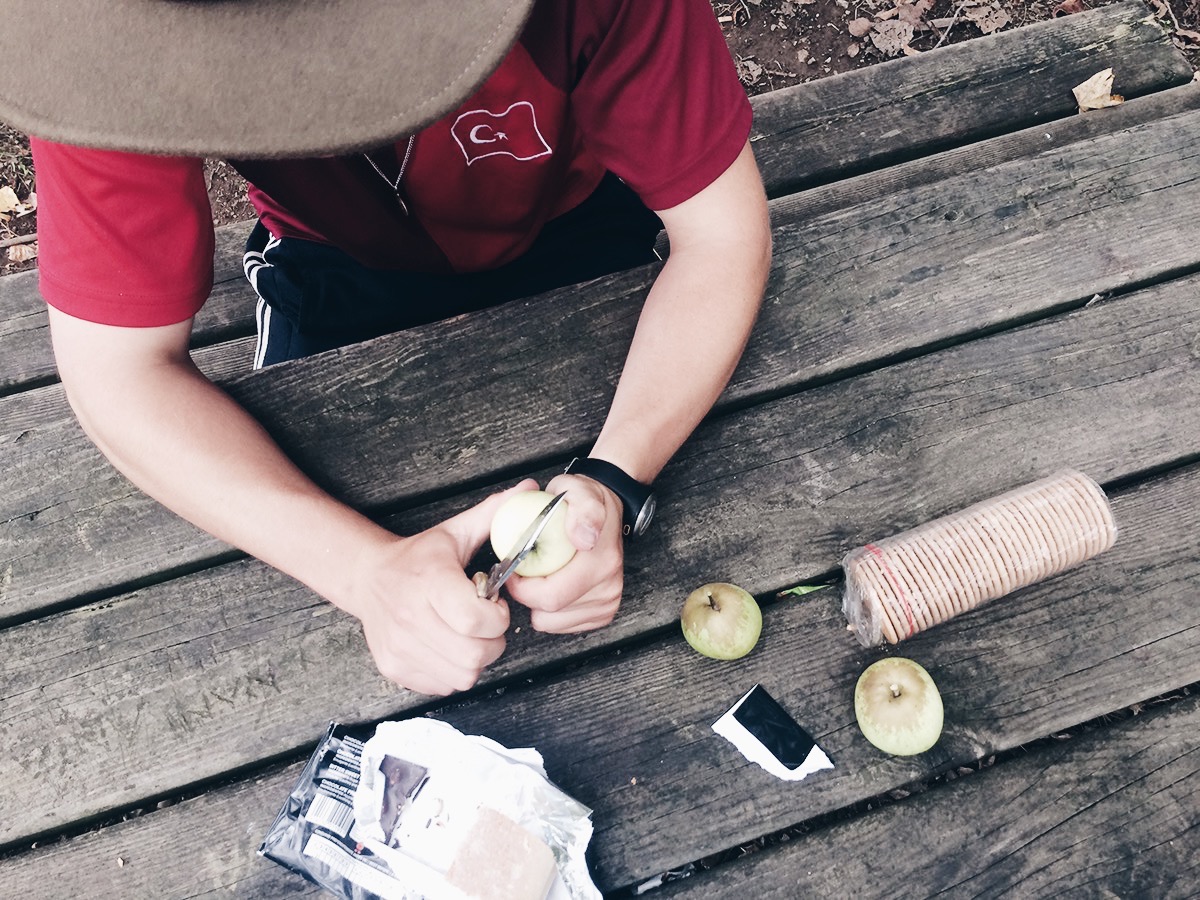 A 17-year-old American who had defied his wealthy right-wing parents to go travel alone, now doing base camp and who I swear is a future president of the USA.
A 30-something English girl with half a shaved head and some of the most kick ass life philosophies I have ever heard and who told me my Tinder stories should be Podcasts. She skipped ahead as she was on a time budget and also wanted to hang out with her 22-year-old French boyfriend. Bless.
A very very Christian Chinese-Australian girl who had some extremist views on abortion who lived in a convent for some time. Another "Bien Camino!" situation.
Two boys who had spent the last year living on one of the Marshall Islands teaching English to locals who had about €200 between them. One was an excellent songwriter / guitar player of Christian faith who sent me serenades and took me out for coffee one day after earning €3 from busking. In the end it didn't work, as I'm probably not quite suited to being a minsters wife bearing 9 children. Awks.
A 29-year-old Mexican lawyer who had two sore knees and basically limped the whole way but ended up over taking me as he had to get back home.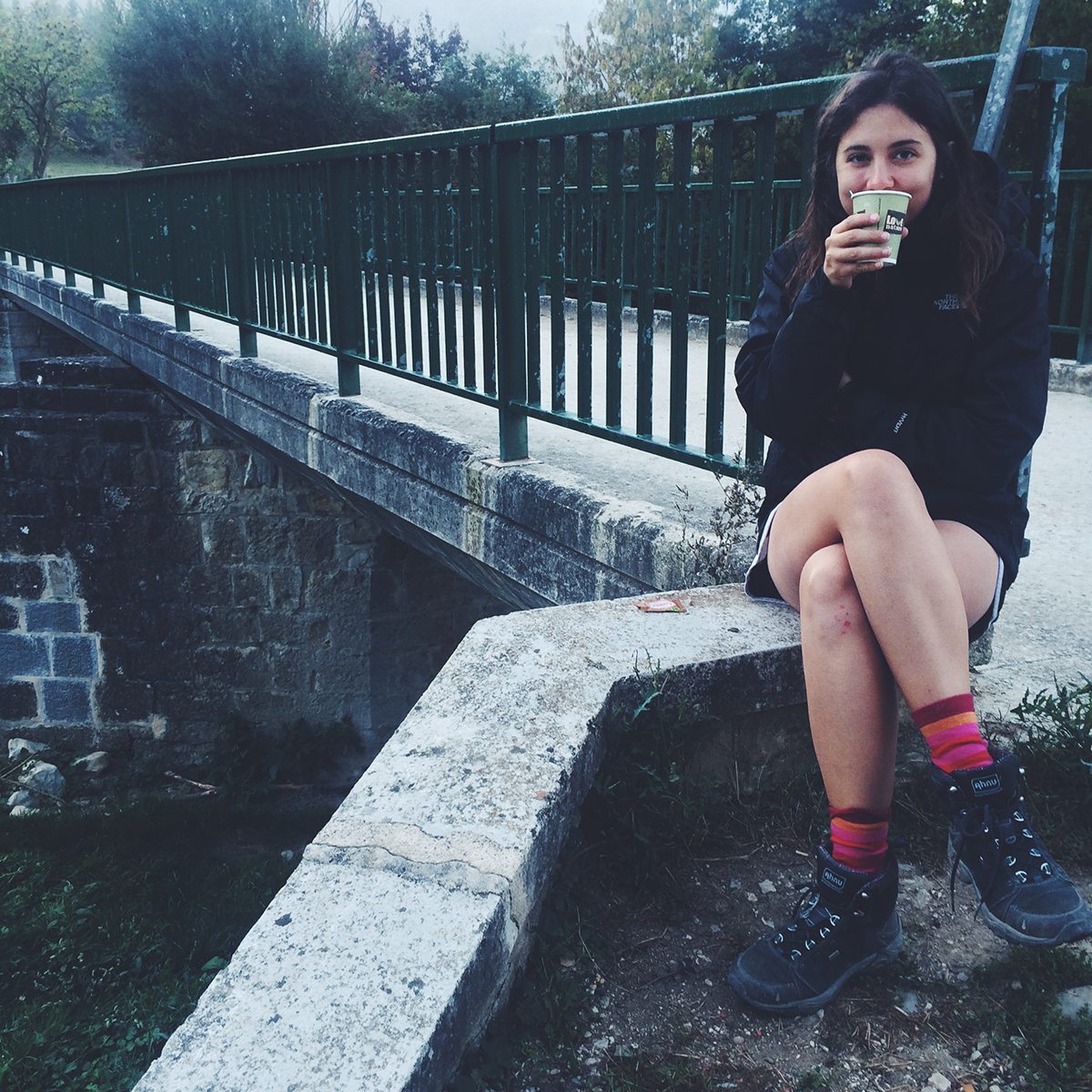 A 22-year-old California girl who had gone through extreme heartbreak – super wise for such a little human – she was the same one that told me home starts from inside.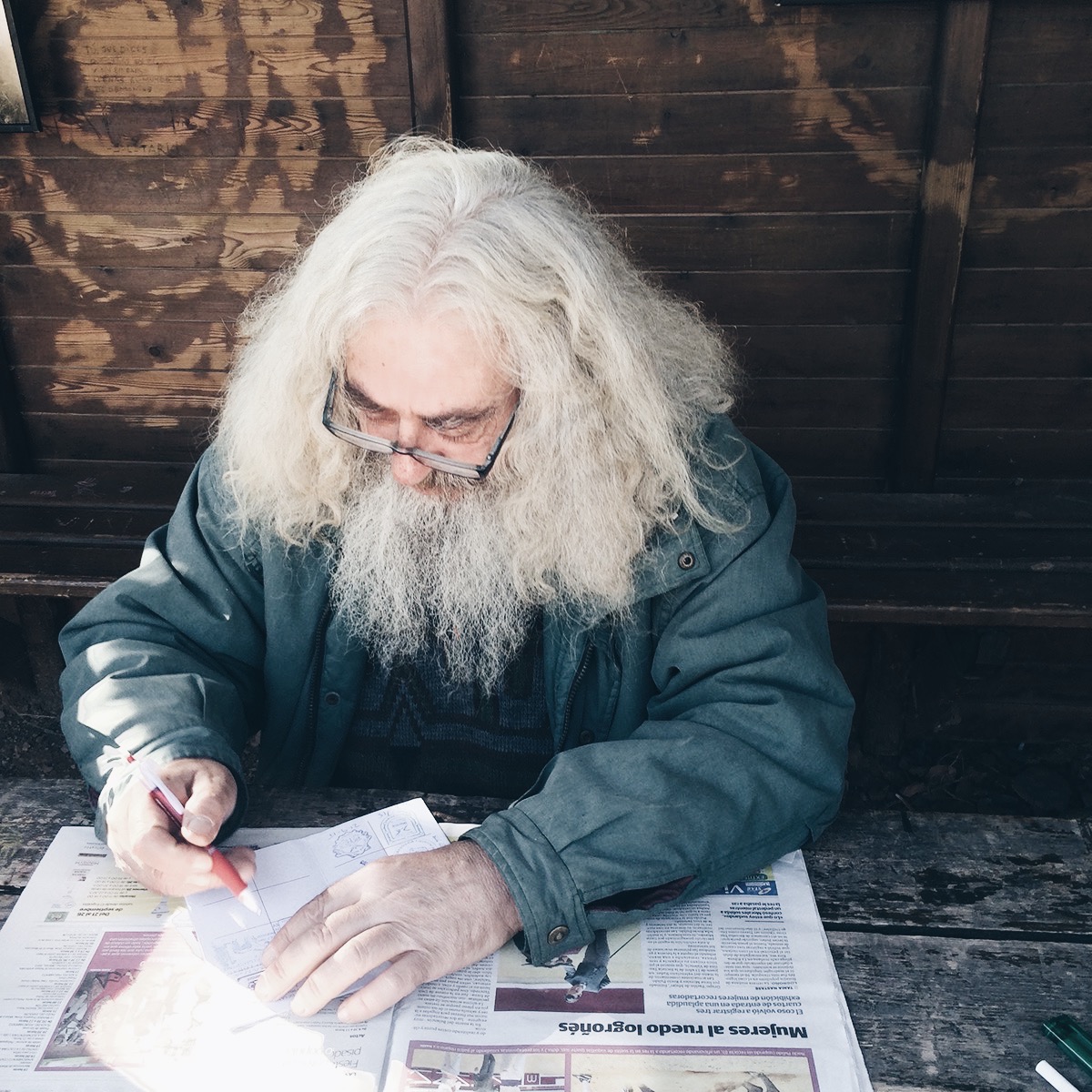 Some old man wizard of the Camino who runs a donation based food stall in the middle of the road an has his own passport stamp. Loved these little finds as they often pop up when you are starving!
[line]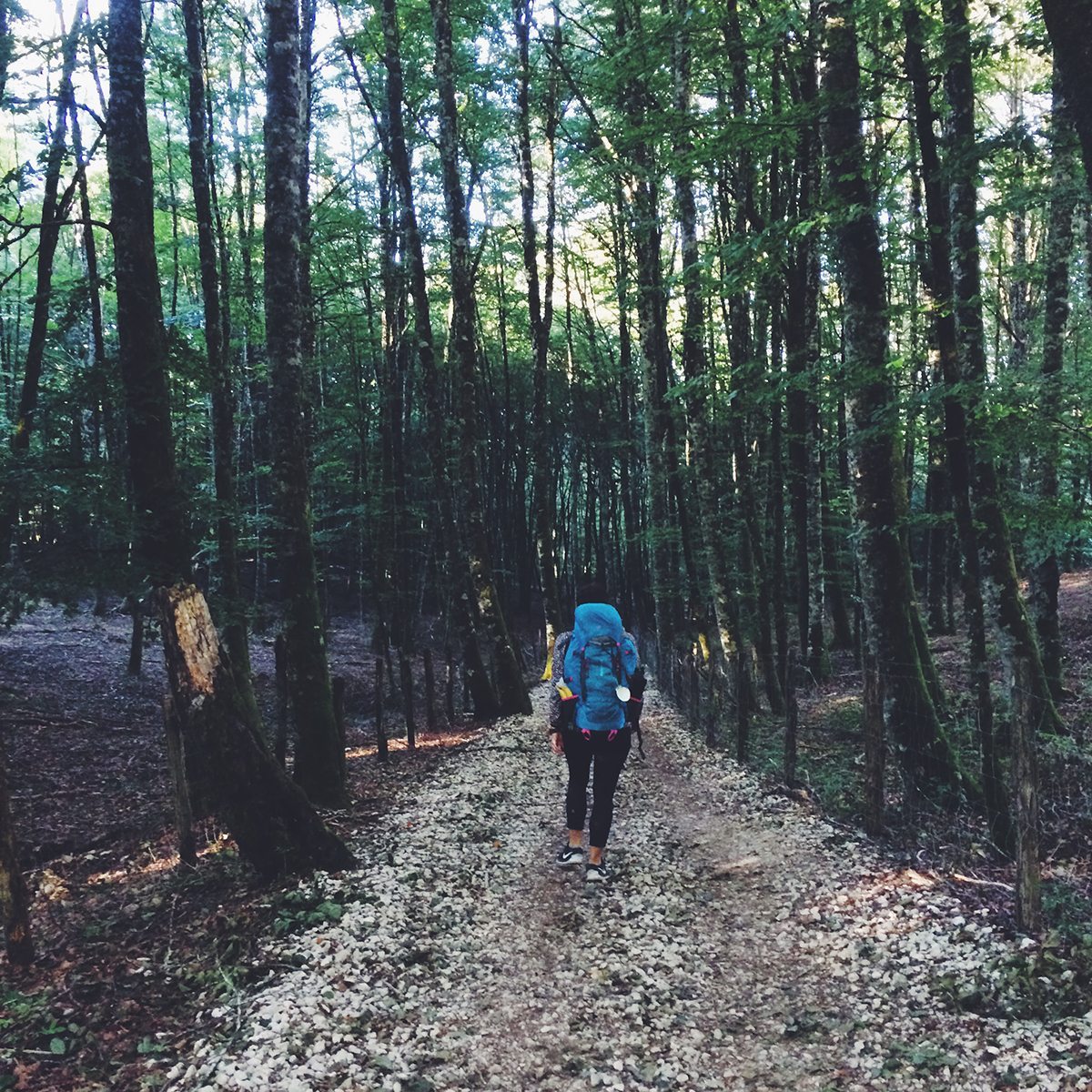 But I'm travelling alone /
have no one to do it with,
will it be weird or lonely?
As mentioned, the walk is so social and you can decide whom you want to walk with, when you want to walk with them and for how long. I showed up alone, a little nervous of course, but quickly ran into another girl from Melbourne who I struck up a conversation with. We travelled together for four days before I felt the need to go ahead without her – she wanted to go at a much slower pace than me, which was ok. We constantly kept in touch along the way and I ended up seeing her and the other buddies I made when I got back to Santiago from Finisterre as they were only just arriving at Santiago and we had a great night out celebrating our achievements.
[line]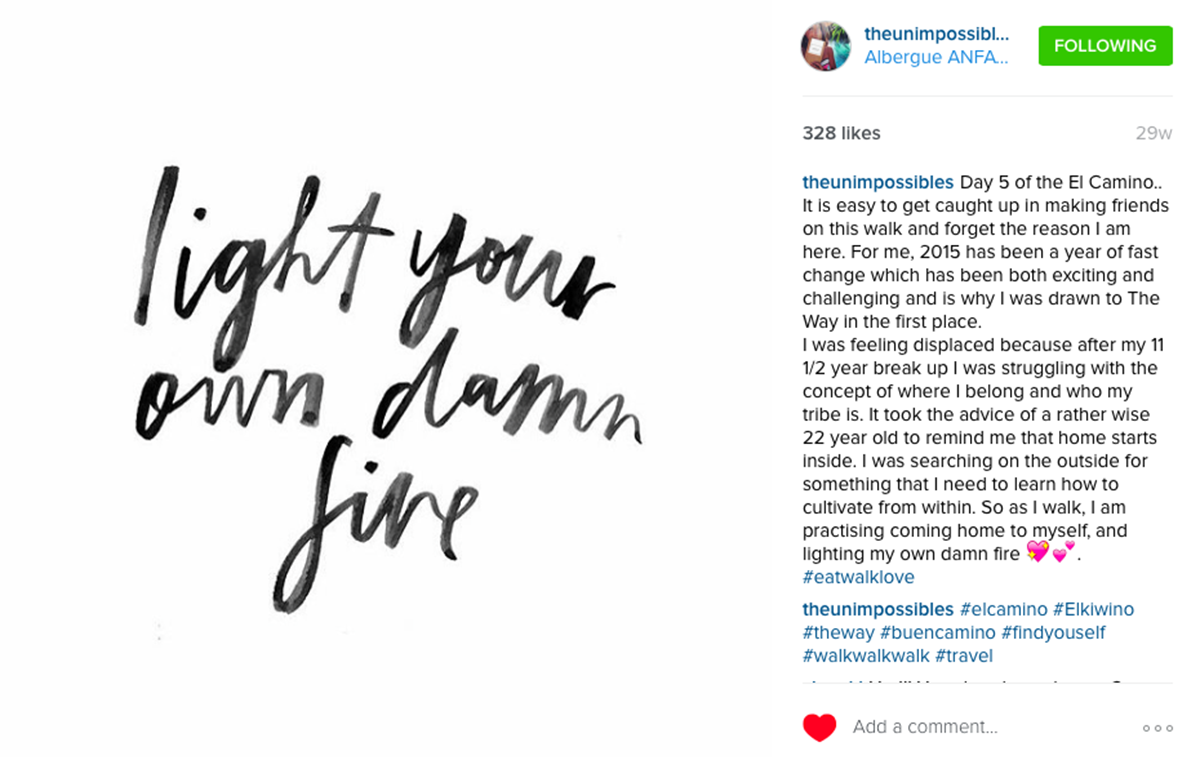 [line]
I couldn't recommend forcing yourself to walk alone for at least part of the Camino enough. Solitude shouldn't be feared, it should be embraced. Only in solitude are emotions fully able to be experienced without having to adjust to someone else's reaction to them. The mental space created by being alone is essential for self development and for learning to fully understand your capabilities. As much as I loved making friends, all of my big uh-ha moments were when I was walking alone.
As I had my cell phone, even when I was alone, I always had messages from friends I had met along the way, friends back home and randoms supporting me on Instagram. I never felt lonely or alone, as there was always the option of connecting with someone in some shape or form at nearly any given time.
[line]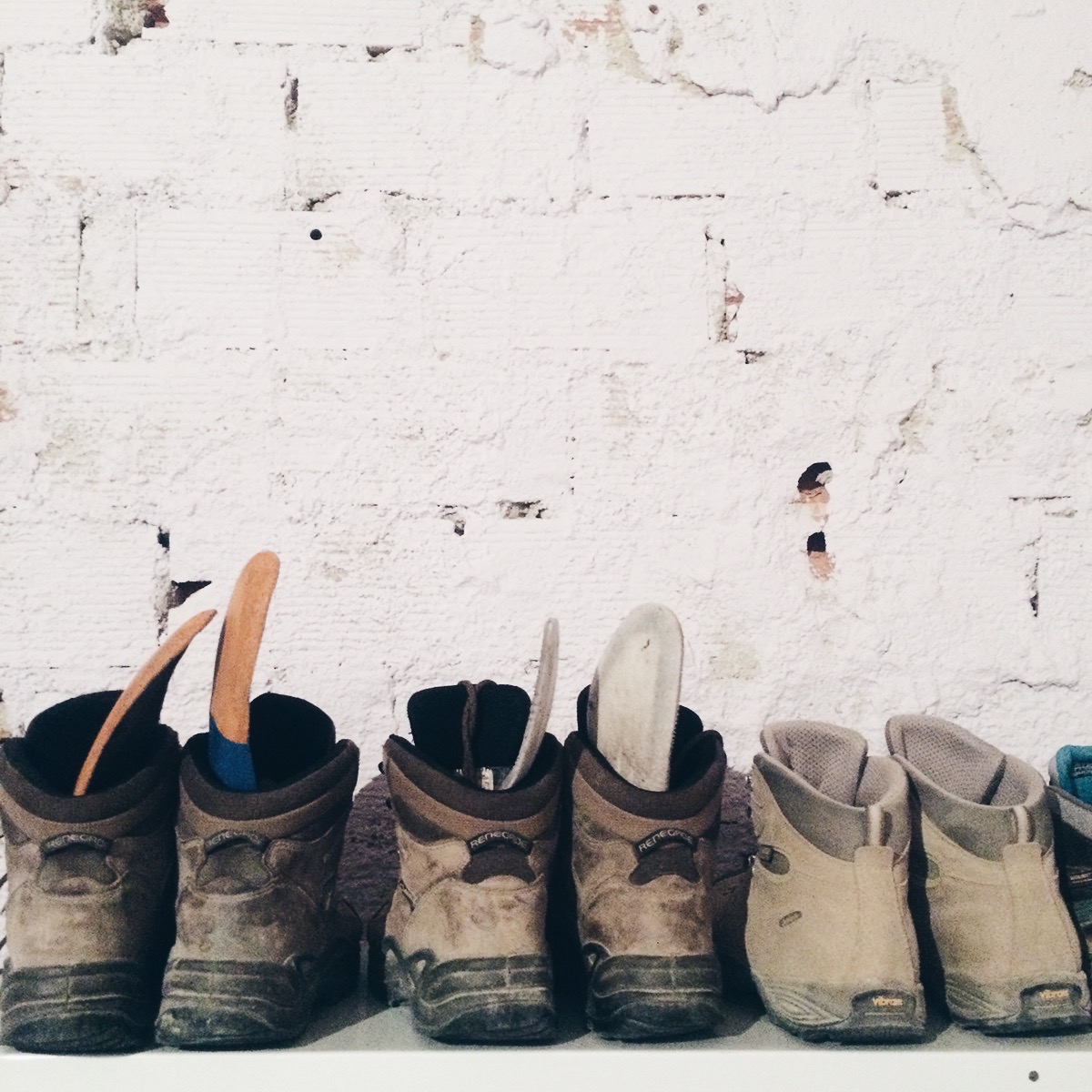 Tips for walking
Hydrate
Cramp and muscle pain is mostly caused by dehydration, so make sure to drink lots of water – there are free drinking fountains everywhere.
Manage pain
I had gotten to know my body pretty well by this point and found that feeling pain doesn't necessarily mean you have to stop. So I medicated myself well, and kept it steady throughout the day (sounds dangerous but it's only for a short period of time so YOLO) and learnt how to push through the rest. I got real Eckhart Tolle about it.. Pain is just a sensation, if you stop fighting it; you learn to be confortable in the uncomfortable.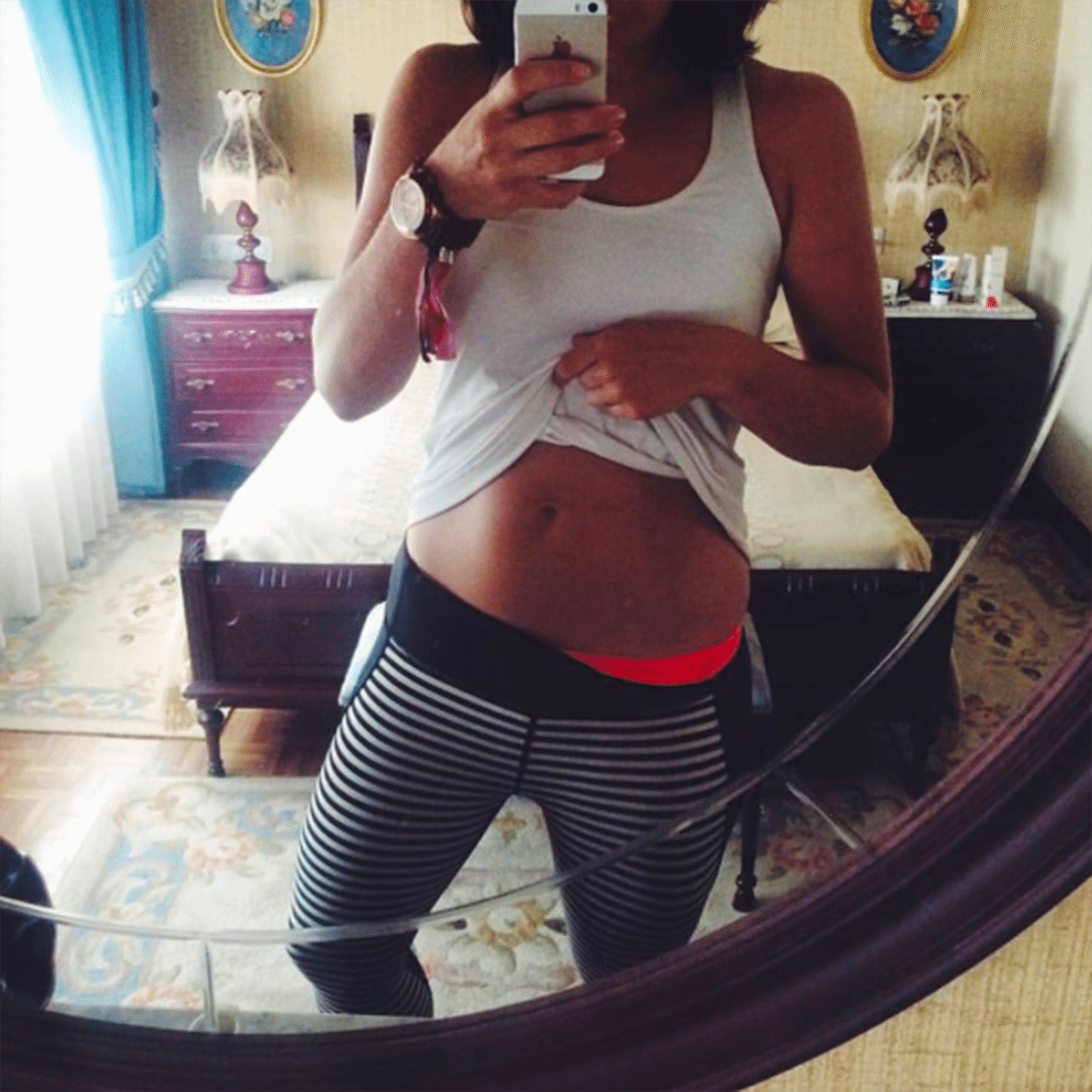 Dress Approps.
As explained in my next guide, making sure you are dressed properly will ensure maximum comfort. So clothes fit for purpose and weather – e.g lightweight in summer and fabrications that dry quickly.
Rest
If you're feeling at the edge of pain or tired, have a twenty minute pit stop. Make sure you go to bed at a reasonable hour and get eight hours sleep. Your body is going through a lot and you will need this to go at your optimal pace each day.
Eat everything you see
Kind of joking, kind of not. When you are walking for so long you need lots of good quality fuel and often – you also don't necessarily know when you will eat next – dark chocolate, nuts, fruit, sandwiches – the options on the Camino are not extensive but this isn't the time for fussy diets.
Mind over matter
I literally thought "I think I can, I think I can, I think I can" the entire time. That cheesy saying, a journey of a thousand miles starts with one step is true.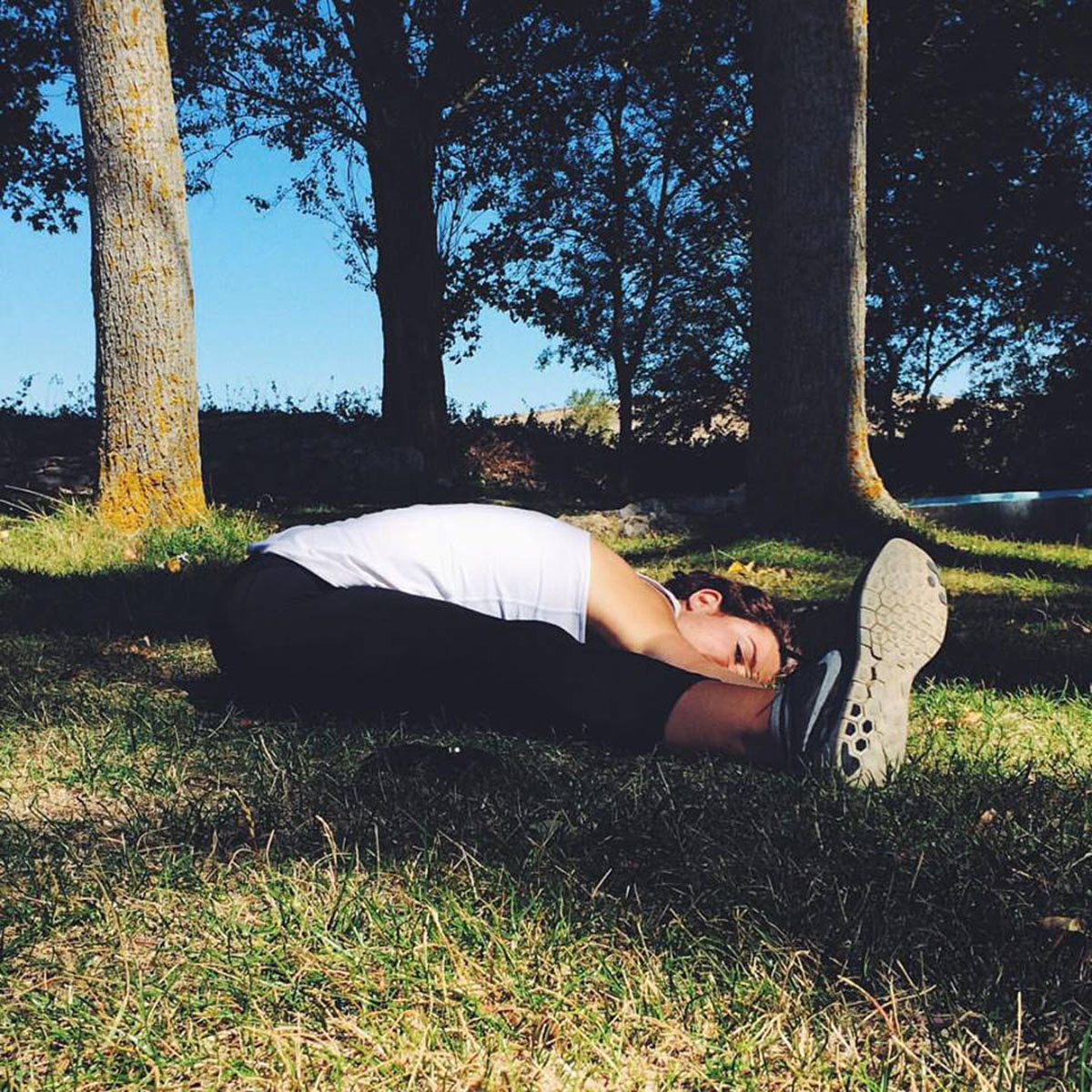 Stretch Erryday
I cannot say how amazing stretching at the end of each day was. It was a beautiful way to both condition the body and nourish the soul. I would do about 20 minutes of yoga stretches targeting quads, thighs, opening the hips, back, neck and so on. This routine was great for releasing tension and preventing soreness the next day. Sometimes I stretched twice a day, or even sporadically when no one was looking while walking.
Take care of your feet
Your feet (and knees) probably take the most hit out of everything. If they are mangled, swollen and sore you are going to have a hard time hobbling anywhere. Making sure you have good shoes (I even had custom made insoles) and great socks will help prevent rubbing. More about that in part 3 here. Additionally, fluid just tends to build when walking so much – so if you find cold water, either lakes, pools or other, it is dreamy to put your feet in for a bit to reduce any puffiness. More on feet in my next two points below.
Embrace foot rubs
Optional but amazing – I happened to make friends with a guy who was an ex physio for the St Kilda AFL team who gave me amazing foot rubs every other night for ten days. I had never had a foot rub in my life but boy will I tell you how luxurious they feel after a full day of walking. My arches often held a lot of tension so this was great to release it. I learnt how to do them myself so I continued doing my own foot rubs once we went our separate ways. Lots of Vaseline or moisturiser is your friend to make these dreamy.
Managing blisters:
Beware the compeed devil
There is scores of literature on how to deal with blisters and I tried pretty much all of them but found this exceptional article after the fact which I wish I had read sooner. The best thing is to not get them in the first place so good quality socks and having good fitting shoes that dry quickly is ideal.
Keeping your socks dry is ideal so consider changing them during the day. Additionally, they recommend draining the blister as soon as possible and applying a dressing – they explained the exact steps in the article.
I would stay away from Compeed – I am convinced they are the devil and make blisters worse but someone is definitely making themselves filth rich off of the belief that they help. I had some pretty horrific ones magnified by Compeed application and eventually I stopped using them altogether in favour of drying them out naturally, which worked for me. The aforementioned article explains that these type of dressings are good for about an hour, but tend to rehydrate the blister.
People will try to scare you and say you'll never recognize your feet again, but mine heeled in a month or so after finishing the Camino with a few pedicures from clean reputable places to nudge heeling along.
[line]
Ok, I got the gangster walk.. now what?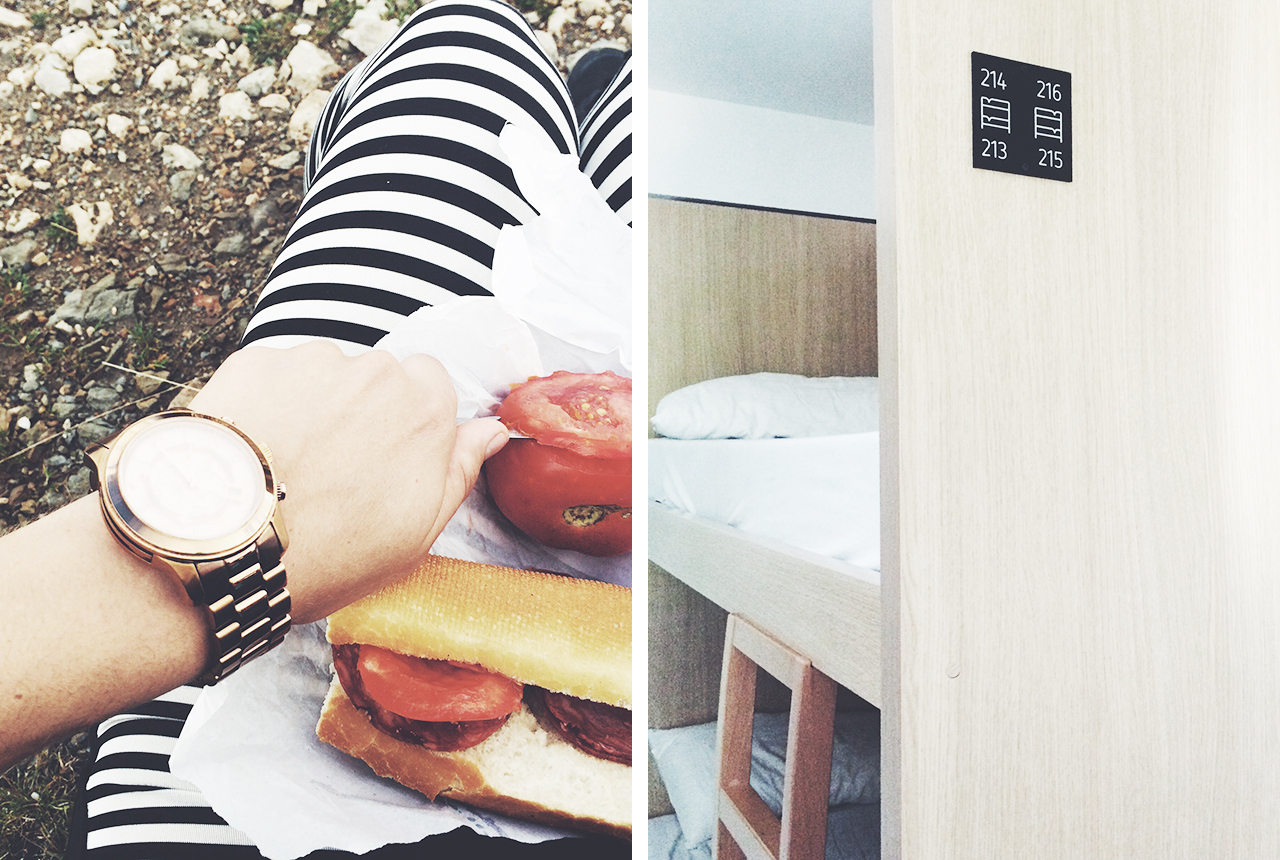 Because donation based albergues and sleeping in Teepees are awesome. Find out why you need to eat everything you see and leave the hair straightener at home.
[line]