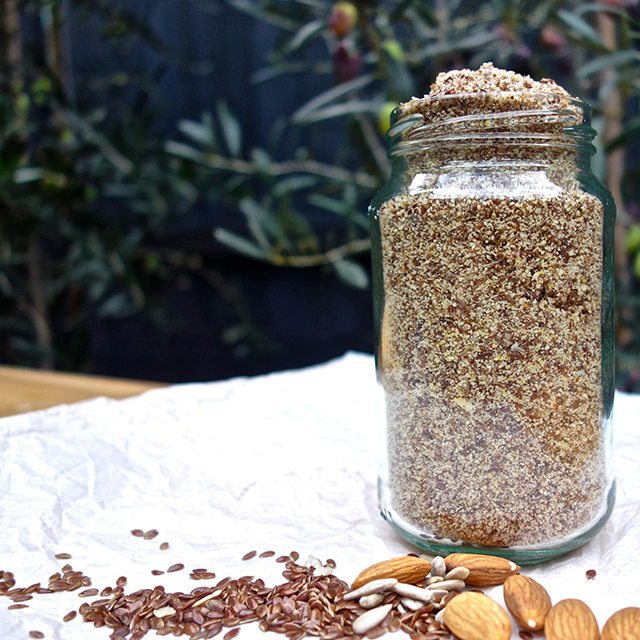 What is LSA? LSA is an acronym for the best healthy threesome around – linseeds, sunflower seeds and almonds. These three will make you shine, which is why I have dedicated a whole week to share with you unique recipes to use LSA in! Why is LSA good for me? LSA is a powerhouse superfood combo which is great for maintaining excellent hair, skin and health.
Linseeds (flaxseeds) contain phytonutrients called lignans. Lignans provide us with antioxidant benefits, fiber-like benefits, and also act as phytoestrogens. Researchers now rank flaxseeds as the #1 source of lignans in human diets. They are also significantly higher in antioxidants than fruits like blueberries or vegetables like olive. Just 2 tablespoons of linseed provide 137% of a DRI of omega 3s which is essential for brain development, hormone regulation and beautiful skin. It is a popular myth that linseeds are easily damaged by heat, however this is not true – tests have shown that it can take high heats for long periods of time and its omega 3 content remains stable and intact.
Sunflower seeds are a great source of vitamin E a skin loving antioxidant. They also contain zinc which helps eyes, hair and skin and prevents scarring.
Almonds are also great for the skin due to vitamin E, copper, magnesium, manganese, potassium and iron.
As you can see, these three together are a force to be reckoned with when it comes to antioxidant skin and body living goodness.
Where to get LSA from:
LSA is available from supermarkets, health stores and markets in the ready made form, however, it is cheaper and fresher when you make it yourself!
See Also
How to make LSA:
It is quite simple to make this at home. Like all ground flours, it is preferable as it will be much fresher. I like to make it in smaller quantities at the start of the week. So ground little and often!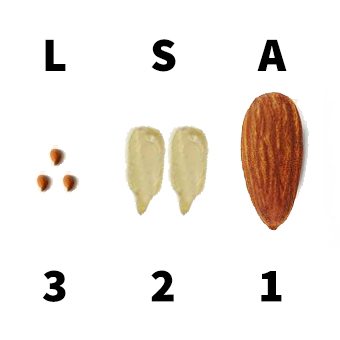 basic LSA recipe
Remembering the formula for LSA is very simple, count down from 3, left to right, along the 3 letters. Obviously I don't mean you literally have to count 3 linseeds to 2 sunflower seeds to 1 almond, I mean parts. You can make as much or as little as you want depending on how fast you plan on using it. Always look for the freshest nuts and seeds you can find – markets are an excellent place for this, it makes such a difference compared to nuts that have been on the shelf forever.
Cuisine:
raw, refined sugar free, paleo, vegan, dairy free, gluten free, fructose free
INGREDIENTS:
3 parts linseeds
2 parts sunflower seeds
1 part almonds
INSTRUCTIONS:
All add to a blender and process until you get a fine flour. If you don't mind chunks, then I don't mind either :D
Store in an airtight container in the fridge. Will last a lfew months fine – but remember it is real food and fresher is always better!
How to use LSA:
You can see all 7 Days of LSA recipes
here
.