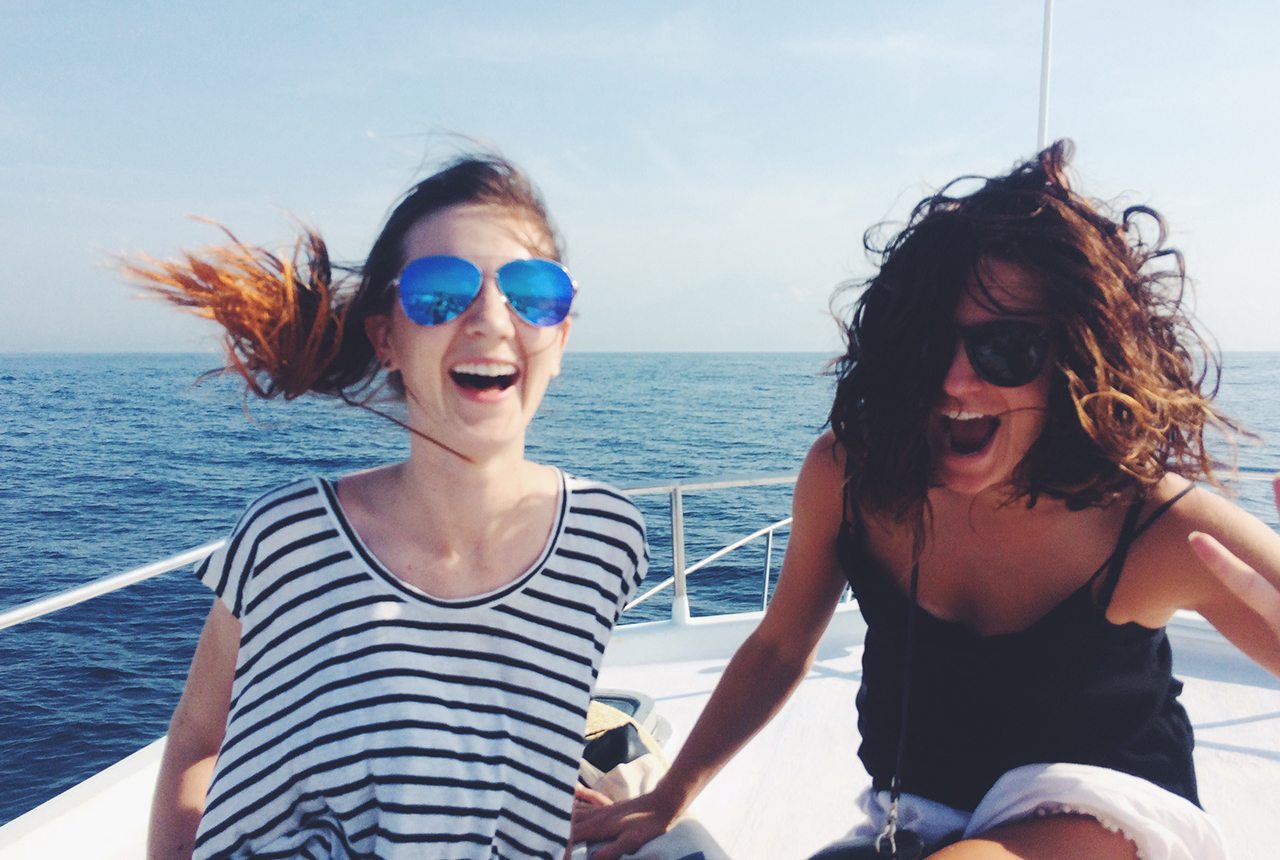 We ventured there on a semi-hectic four-hour fast-boat ride from Serangan. Whilst I appreciated the effort to get us there quickly, I was equally as thankful for the seasickness tablets they provided. The boats are pretty cool – you can sit on the roof and enjoy the passing islands as the boat hoons along the Lombok Strait. Indonesian OH&S is a little concerning as there was no apparent railing or protection from falling off, but I guess it's not a problem as no one fell off? Darwinism is likely to play out here.
Safely on shore, the hardest part of our trip was over and we were free to take in all of the interesting sights of the island. Life on Lombok is quite a bit different to the built up areas of Bali. Traditional Indonesian houses are prominent and with that you get a glimpse into how to locals actually live. Kids playing on dirt roads, cows for pets (and food?), men hiding from the heat in undercover ports and masses of coconut trees with foot groves carved into the sides – no ladder needed here, they just shimmy up the tree freestyle.
After short taxi ride from the port we arrived at the oasis that is Tugu Hotel. The story of Tugu is actually quite nice – the three Tugu Hotels are privately owned hotels by founder Anhar Setjadibrata. Setjadibrata happens to be one of the biggest collectors of fine Indonesian art and cultural antiquities in Indonesia and designed the boutique hotels to house his collections and 'to share with the world the romantic stories and legends of ancient kingdoms of Indonesia'.
Catalina wears Henna Balcony Bikini, Zimmermann. Facemasks made from comme.co's Activated Coconut Charcoal.
Tugu Hotel on Lombok is made up of eighteen rooms on a massive six-hectares of land and boasts two restaurants, two temples, two public pools and a whole lot of beds, tables, hammocks and swings on the beach where you can eat, drink and hangout.
The gorgeous room we stayed in was a giant private villa with large bedroom and outdoor bathroom in an authentic Indonesian style of architecture. Outside we had a private pool five metres from the bed with a beautiful poolside cabana as well as direct access to the beach, which was literally forty metres from our villa.
Catalina wears Gemma Bikini, Bondi Born (tan lines optional), & Celine sunglasses. Emily wears Ibiza Bikini, Witchery & Rayban aviators.
Tugu has lots of swim gear you can borrow – Emily and I were pretty obsessed with this floating pontoon just offshore and took it to ourselves to paddle over there on kayaks to sunbath and watch the erupting Rinjani. Thankfully, apart from concerns about missing flights home, we were pretty safe from the volcano. The ash soaked clouds made for dramatic viewing – it was pretty surreal – a beautiful and terrifying display of Mother Nature.
In the welcome email from Tugu they specified that you could have 'daily breakfast, set wherever and whenever your heart desires'. They can set up a private table for you at the beach, in a cabana or simply on the plush couch made of cushions in the restaurant. As it was my birthday on the day of checkout we schemed up plans of somewhere nuts to have breakfast – on the pontoon? Rooftop on the private boat? At the 18th hole on the neighbouring golf course?
Well we got a bit carried away with actually doing stuff and forgot to put in any such request, however, we ended up having a beautiful breakfast table set up for us right by the ocean. When ordering something was lost in translation and somehow we ended up ordering enough food for a small village. Oops.
Birthdays abroad can either be really great or really lonely depending on mindset – but with one great gal pal and a fleet of friendly staff I felt pretty lucky. They surprised me by with a chocolate birthday cake bought to me via a traditional drum serenade. As we were so full from a massive breakfast we thought it would be nice to share the cake with the staff. If you're in a place of abundance you should give back right?
Life seriously slows down when you're on Lombok island. The white sandy beaches make for excellent lazy days. Just kick back and let the island work its magic on you.
What else can you do with Tugu?
If you want to explore the island, there are various cultural experiences Tugu Hotel can arrange for you such as cooking classes, pearl cultivating, sea turtle releasing, yoga, diving and snorkelling.
Getting there:
Tugu Hotel is a four-hour fast boat ride from Serangan on Bali to the port of Teluk Kode on Lombok island. From the port it is a quick fifteen-minute taxi to Tugu Hotel.
Where next?
Lombok is seriously close to the Gili Islands. After Tugu Hotel we took the twenty-minute public ferry from Bangsal Port to Gili T to stay at the cool Hotel Vila Ombak. If going there, make sure to get a taxi to the official concrete offices; there are lots of street sellers claiming they can sell you tickets who will rip you off. Gross. At the time of writing this, public boats are super cheap at Rp9,000 per person. They leave all day when they are full.
The Unimpossibles visit was courtesy of Tugu Hotels.
[line]
Tugu Hotels Lombok Contact Details://
Website / bookings, Instagram, Facebook
Email: lombok@tuguhotels.com
Phone: +62 370 6120111
Address: Jl. Pantai Sire, Desa Sigar Penjalin, Kecamatan Tanjung, Lombok Utara, Nusa Tenggara Bar. 83352, Indonesia
[line]