Catalina wears (erm well.. sometimes) Emma Bikini, Bondi Born & Spencer Hat, Lack of Color. Emily wears Gemma Bikini, Bondi Born
.
If being able to roll out of bed into a private pool where you can do whatever you want in the comfort of your own home sounds like a good idea, then The Royal Purnama is the right place for you.
An undiscovered new comer on the block, The Royal Purnama offers a luxurious and secluded set of villas away from the overcrowded tourist areas such as Seminyak and Kuta.
The villa's layout is long and skinny with the kitchen, bedroom/lounge and bathroom all in a long line across the length of the outdoor pool. Each room has it's own set of sliding doors – all of which open to the pool. This touch of genius means all swimming all of the time. Which is good because Bali is hot!
Our days went like this:
Wake up and a little bit hot. Rolls into the middle of the pool directly from bed.
Finished coffee in the kitchen and full of energy. Why not have a swim!
Need to freshen up after all the swimming but don't want to drip through the entire villa. Swims to the end of the pool and jumps straight into the shower.
This was probably one of the most luxurious private pools of my entire trip – it is long enough to do laps, is surrounded by exotic looking plants, the cabana day bed always has fresh towels. It is just nice.. like there is no fault.. how blissful! The true indoor / outdoor pool flow is something I wish I had at home. It is these things little you would never think about which make life special.
The grandiose bathroom was nearly a third of the entire villa – for good reason – it had a lot to house! As with most Bali bathrooms, it is half covered and half uncovered – so keeping doors shut at night-time is important if you don't want to wake up covered in mosquito bites. That's the flip side, but the obvious advantage is how amazing is it to be outside while showering. The outdoor waterfall shower is roofless, which makes for a very dreamy shower underneath the stars. The bathroom also features a long double sinked bench (very important for two girls sharing a villa!) and a very large stone bath, which comes with bathsalts and bubble bath.
In the kitchen they had complimentary Nespresso and tea (with the cutest tea pot set!) as well as a table for eating room service.
The staff at The Royal Purnama are generous and quick at fulfilling all bottled water requests as well. In a country where the water is not drinkable, access to free flowing water is a simple luxury. You wouldn't believe some hotels limit this.
The bedroom has s spectacular Balinese style wooden bed with beautiful and practical mosquito nets. Bedside table Bluetooth speakers makes chilling to music from your iPhone poolside easy.
Another thing to note is there is ample storage between the bed and bathrooms, which allows you to hide away your luggage so clutter so it doesn't ruin your tranquil space.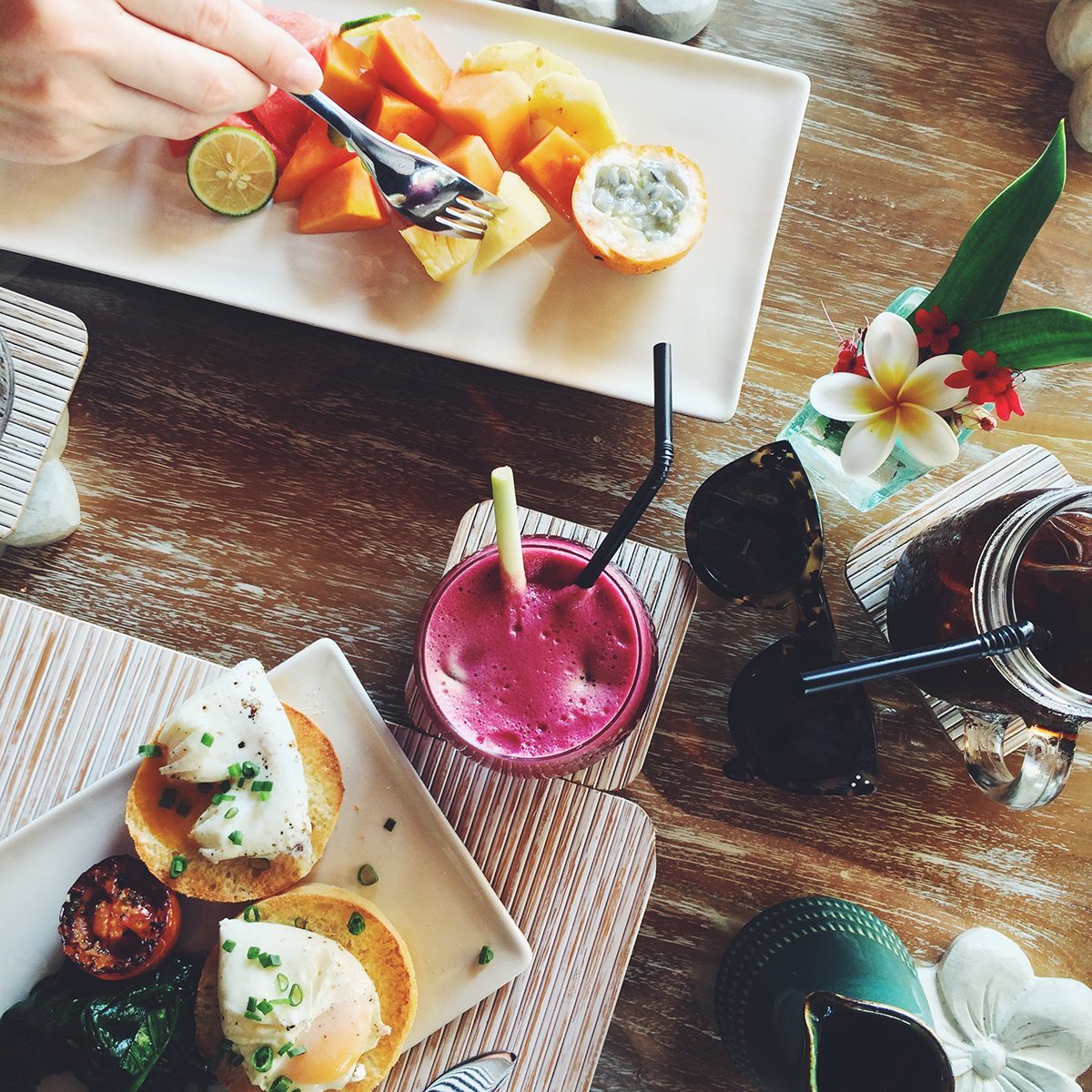 The Royal Purnama is far away from most of the crowded parts of Bali. Depending how you see it, it could be a good or a bad thing. The reasons this was a good thing – you get to relax away from all the hectic crowds and truly decompress. The amenities such as the outdoor pool, luxury beauty and amazing restaurant / room service are good enough that leaving seems silly. If you do need to leave there is free pick up and drop off to local areas such a Ubud so you can go visit Monkey Forest and get some delicious Babi Guling (suckling pig) from Ibu Oka.
For those who need a bit of exercise with their relaxation (aka me!) there is a well-kitted gym as well as the ability to book group or private yoga which we happily participated in.
Yoga started at 6:30 with a local Balinese man – we did a gentle class, which was great as we both were puffy and swollen from our long flights. As we were stiff, I don't think we could of achieved much more, however, after the class and the next day we were both back to new. The stretching and gentle poses definitely got everything in our bodies flowing correctly again.
Finally, the magical black sand beach looks spectacular at night from the pool and restaurant. As always, it's the little things that count.
We were saddened when we left the Royal Purnama.. what an amazing start to our Bali adventure.. What could top this? It certainly gave everything else a lot to live up to both for Bali and our normal lives. My advice is visit this place before it gets discovered by the big travel magazines and website and and enjoy the peace and serenity as it isn't a matter of if but when.
Getting there:
The Royal Purnama offers pick up and drop off otherwise get a taxi. Travel time is approximately 49 minutes from the Ngurah Rai International Airport.
Where next?
After The Royal Purnama we made our way ten minutes down the road to
Komune – the luxurious surf club beach resort with a big focus on health and wellbeing.
The Unimpossibles visit was courtesy of The Royal Purnama.
[line]
The Royal Purnama Contact Details://
Website / bookings, Instagram, Facebook
Email: reservations@theroyalpurnama.com
Phone: +62 361 8493706
Address: Jalan Pantai Purnama, Kec. Gianyar, Bali, Indonesia
[line]